Cue soft, sexy voice – It's not just any pick and carry crane. It's a Valla pick and carry crane.
Okay, it can't ooze chocolate, and it hasn't got berries on top, but the Valla 35 pick and carry crane can have a powerful effect on many lifting professionals. Because, well, it is just so good at what it does.
That is why we have made the Valla 35 mini crane our Product of the Month for February. We want to showcase this might mini crane's undoubted talent as a perfect lifting solution.
With a maximum lifting capacity of 3.5 tonnes, but a gross weight of just 3,000kg, these are pick and carry cranes that combine excellent lifting power with a truly compact crane design.
To whet your appetite, we have two versions of the Valla 35 pick and carry crane in our mini crane hire fleet. There is the Valla 35E and the Valla 35D TRX.
Valla 35E
The Valla 35E is an electric ride-on pick and carry crane, with a robust safety cab. It is fully at home in many industrial settings, for example carrying out factory maintenance or machinery moving.
Tyre manufacturers use the Valla 35E pick and carry cranes to change the tyre moulds on production lines. Spaces is confined and, to ensure production is not held up, time is limited. These mini cranes are, therefore, perfect for the job of keeping tyre production rolling along.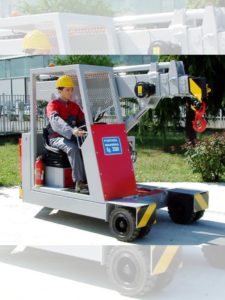 Valla 35D TRX
This is a tracked diesel-powered mini crane, so is the go-anywhere version of the Valla 35 range. The Valla 35D TRX pick and carry crane can be used for materials lifting and carrying across rough terrain on construction sites, or indeed where there is a need to reduce the ground load during lifts. Many of our clients combine the hire of this compact crane with one of our wide range of vacuum lifters for glass or curtain wall installation duties.
Both mini cranes are fitted with the latest COBO 3B6 digital performance control and safety load monitoring systems. This gives the crane operator added assurance that lifting will be carried out safely and efficiently.
Most mini crane models can be fitted with an additional fly jib, to give additional up and over reach and lifting radius. Even without such an attachment, the Valla 35 pick and carry crane has significant advantages over other lifting equipment.
The mini cranes have greater reach than a forklift truck and, at only 1.38m wide, they are more effective when operated in confined areas. They are also specifically designed to safely carry loads over significant distances.
Also, these mini cranes simplify lift and move projects, by reducing the amount of machinery, personnel and processes needed to complete lifting tasks. This reduces costs and optimises safety.
Both version of our Valla 35 mini cranes – the Valla 35E and Valla 35D TRX – are available for hire from Hird nationally, via our regional operating hubs. Call us today to find out how, when it comes to lifting, Valla mini cranes are mighty.
Email: [email protected]