A vacuum lifter hired from Hird Ltd has played a key role in the installation of giant glass panels to create on the most distinctive libraries and exhibition venues in Wales.
The DSZ2 was selected by glass installation specialists to lift the panels into position in the new County Library and Gallery in Haverfordwest, Pembrokeshire.
Once complete, the new venue will host exhibitions of art from National Library of Wales collections.
It will also have a tourist information centre, a health and financial advice centre, a children's play and discover library and a café.
Large glass cube – a key feature
A key element of the transformation of the former Riverside Indoor Market is the new floor-to-ceiling windows, creating a large glass cube venue and exhibition space.
The DSZ2 material vacuum lifter was the ideal choice to lift the glass panels, which had been transported to the South Wales town from Austria.
It is one of the slimmest vacuum lifters available in the UK and can now be supplied two additional extension arms that give it a maximum lifting capacity of 900kg.
Remote control for precision glass lifting
The vacuum lifter's narrow depth, of just 180mm, is ideal for working in tight environments, and its hydraulically-assisted tilt system supports precise control of loads.
Hird can also supply a DSZ2 vacuum lifter with cabled remote control, so operators can get the best view of the glass installation process.
Safety is enhanced with a dual-circuit vacuum system and low vacuum alert. Transportation is aided with a wheeled stand.
The vacuum lifter can be used with a pick and carry crane or, as was done for the Haverfordwest Library project, a tracked spider crane, in this case a Maeda 285.
Extensive vacuum lifter range
The DSZ2 is one of the most popular machines in the Hird material vacuum lifter hire fleet, which has other lifter with capacities ranging from the MT2's 135kg to the 3500kg of the mighty Kappel Hydraulica 3500kg.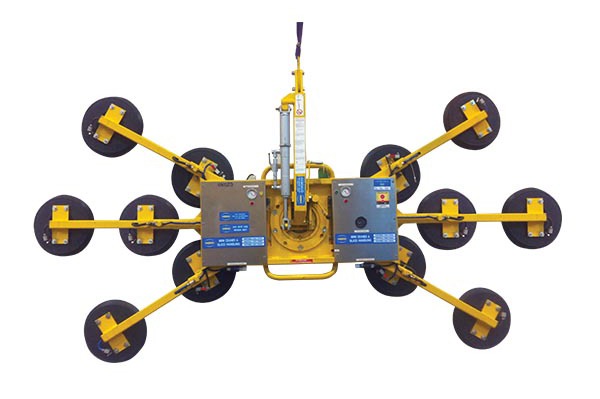 Hird can also supply experienced and qualified crane operators to support the use of vacuum lifters to carry out glass or other material installation.
It can also provide RTITB-accredited vacuum lifter training, and A66 crane operator training, if required.
For more information about vacuum lifter hire, spider crane hire, and pick and carry crane hire from Hird, call today for a friendly expert advice.
Email: [email protected]