Glass is getting bigger. Hird is responding by providing clients with the equipment needed to carry these bigger loads.
That is why our Product of the Month for May is the Heavy Drive Trolley, which has a maximum capacity of 3,000kg.
To be fair, it is actually two trolleys, cleverly joined together to allow longer and, therefore, heavier pieces of plate and laminated glass to be carried safely to installation site.
More on that in a moment.
First, though, a bit more on why the Heavy Drive Trolley is needed.
Glass technology and design
Advances in glass manufacture and changing tastes in building design have been combining to increase the use of architectural glass in a wide range of buildings, both commercial and domestic.
The need to enhance protection and security in large commercial buildings in particular have increased the need for thicker glass to be incorporated in buildings.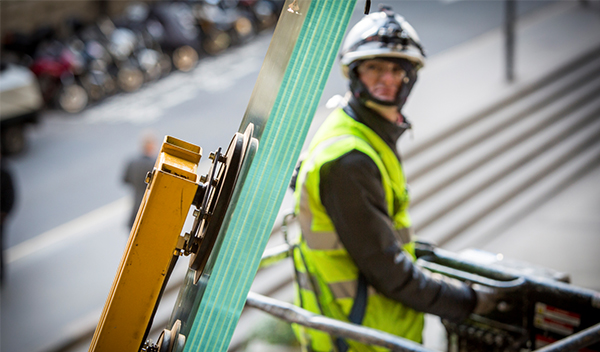 Using just one large piece of glass, instead of two or three panels, also accelerates the construction process, reducing costs.
This trend has led new thinking in the practical process of moving large sheets of glass and glazing panels around construction sites.
An important solution to this conundrum is Hird's Heavy Drive Trolley.
Impressive capacity
To get a better understanding of what lifting 3 tonnes is all about, that is the same weight as all the items below.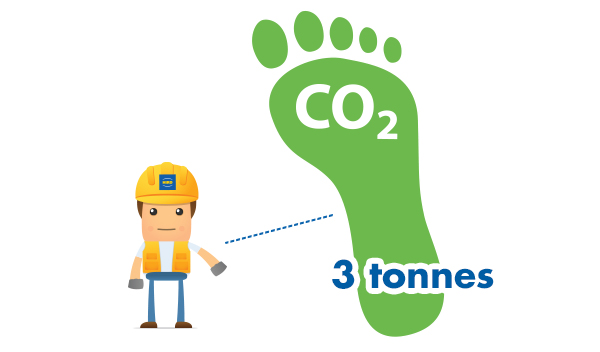 The amount of carbon produced, on average, by every person on the planet to save us all from climate change. Currently we produce, on average, 4.5 tonnes each.
It's an impressive load. Bear in mind, though, that our Heavy Drive Trolley is designed specifically to carry sheet material.
In most cases, this is glass. However, the trolley can just as easily carry single or multiple sheets of plasterboard, wood, metal or plastic, depending on the task in hand.
Modular glass trolley
Hird's Heavy Drive Trolley achieves this through a combination of smart design and robust build – making transporting very large glass panels safer, both in terms of reduced manual handling and minimising the risk of damage to the glass or surrounding structures.
Two single trolleys are joined together by an adjustable extension rod to create a single trolley that can hold glass sheets and panels from 1.7m up to 12 metres long.
That is four times longer than the average room in a British home.
The modular design makes it easy to transport the equipment to a worksite, quickly assemble it – and then, just as quickly, disassemble the trolley and transport it away from site afterwards.
The Heavy Duty Trolley can support loads with widths of between 25mm and 225mm.
Single or multiple sheets
This means it can carry multiple sheets to an installation site or one thicker sheet of glass – for example composite glass panels that are needed to meet structural strength, security and thermal efficiency standards.
Each trolley weighs 220kg, so the Heavy Drive Trolley is a fraction of its carrying capacity, enhancing its performance working across low load bearing ground and floors.
The trolley is fitted with ultra-smooth, swiveling wheels that make it easy to maneuver and allowing operatives to quickly move the load around obstacles, as well as dips and bumps in the ground.
The Heavy Duty Trolley comes into its own where plate glass panels cannot simply be lifted directly into an installation site.
For example, a panel may need to be installed in a covered atrium or a recessed entry to a building.
Glass trolley hire fleet
Of course, the Heavy Duty Trolley is just one of a range of glass and materials lifting trolleys in the Hird hire fleet.
They include the Curved Plate Glass Trolley – which can carry curved glass panels with thicknesses up to 100mm and up to 6m long, with the use of additional supports.
Hird also offers:
A Rough Terrain Plate Glass Trolley with extra large wheels for lifting glass loads weighing up to 600kg.
A Tilting Glass Trolley to allow loads up to 600kg to be tilted while being transported to help get past obstacles and through constrained openings.
And an Ultra-narrow Plate Glass Trolley for installations in areas where space is very limited.
Ask about glass trolleys from Hird
Find out more about the Heavy Duty Trolley from Hird. Also the many other glazing trolleys and stillages in our glass equipment hire fleet, including the revolutionary EgoMover electric materials moving trolley range.
All trolleys are available for hire nationally through our four regional operational hubs, which also offer manual handling training to support their efficient and safe use.
Email: [email protected]