Hird expertise and a 500t crane has given a new boat the lift it needed to begin a life on the ocean waves.
The 55t brand new trawler yacht was launched by being lifted from the quayside at the Alexandra Dock in Hull, East Yorkshire.
It may look like a work boat, but the vessel is actually a leisure craft, allowing up to six sea lovers to cruise in comfort and safety in any of the world's oceans.
500t mobile crane
Hird was commissioned to lift the 17.5m boat into the water for the first time.
Hird Appointed Person Jake Coulman said: "Given the weight and the size of the boat, we needed to use a 500t mobile crane.
"The crane had to be placed as close to the quayside as possible as this minimised the risk that the weight of the crane would buckle the dock wall."
Large outrigger pads, each one 10m2, were used to reduce the crane's load on the ground.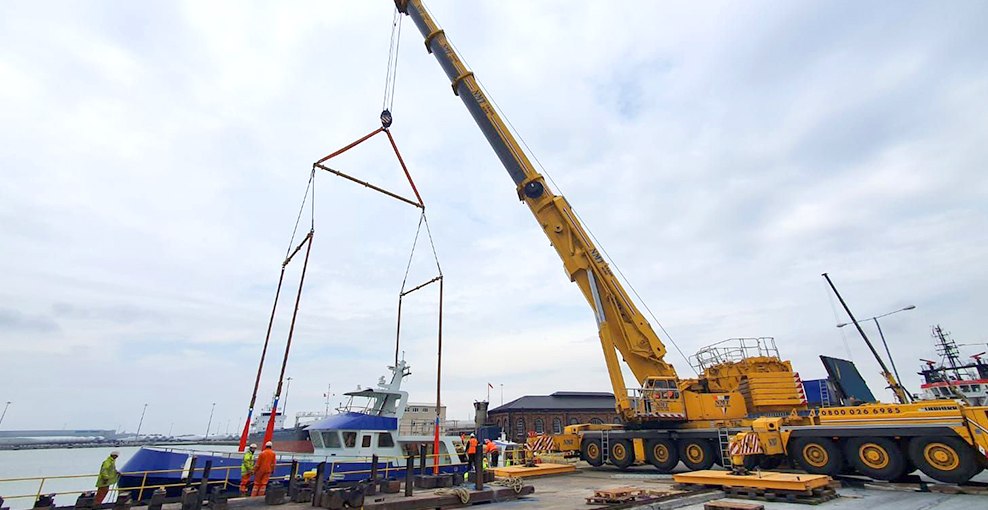 Mini cranes
The company has its own Liebherr LTM1060 3.1 60t mobile crane and a Grove GMK4100L 100t crane. As this project demonstrates, it can call in cranes with higher lifting capacities as required.
Hird is also a UK leader in the use of mini cranes – both Valla pick and carry cranes and Maeda spider cranes – which are often ideal for carrying out lifts in congested marine and dockside environments.
For more information about specialist marine lifting, boat lifting, and machinery moving, contact Hird today. Call 01482 227333. Email: [email protected].