It is not just the quality of the cranes, glass lifters, and powered access machines that Hird Group delivers that counts – it is the quality of the vehicles used to deliver them.
Hird has invested in two new delivery vehicles which help make delivery of its equipment more efficient, safer, and sustainable than ever before.
The Volvo FM450 trucks have the latest low-emission and fuel-efficient engines – and are fully FORS compliant, setting the highest standards of hire equipment delivery in the UK.
Phil Hird, Managing Director of Hull-based Hird, said: "Our equipment hire customers are increasingly keen to work with companies that can demonstrate they set high-quality standards, especially for safety and efficiency, across the full spectrum of their service offer.
"Investing in the latest delivery equipment ensures they can be confident that we are in step with their expectations and can be trusted to always deliver the equipment they need and collect it again, on time, whatever the location."
The delivery trucks have some of the latest safety features, including an integrated video camera to assist the driver when turning left.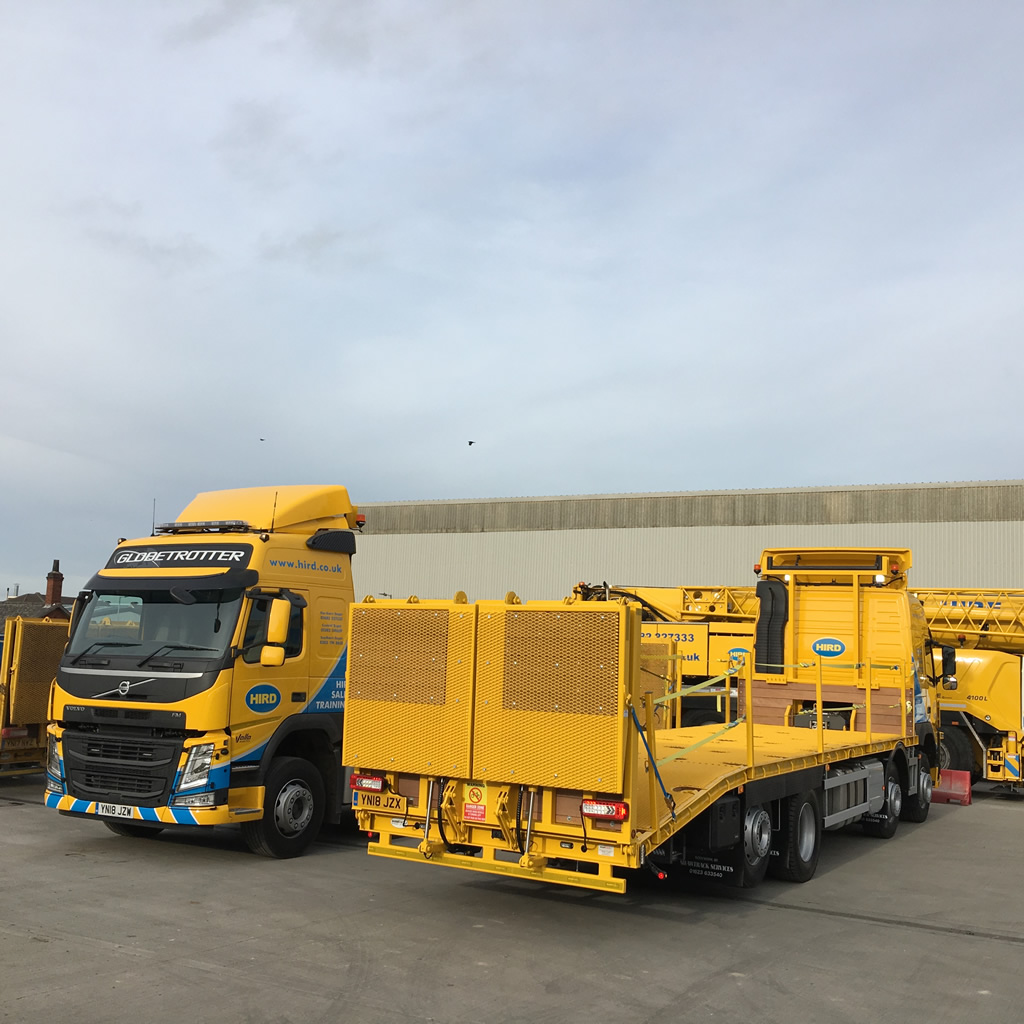 The system activates an external voice and side scanner for warning pedestrians and cyclists, and to give the driver additional support to maximise road safety.
As the vehicles are fully FORS compliant they can be driven throughout London. The FORS standard is increasingly required by contractors to gain access to sites at locations outside London as well.
Phil Hird said: "We are always seeking to continuously improve our systems, and these trucks are an example of that. The more assurance we can give our clients about the quality of our service the better for us, and for them."
The lorries and the 8×4 chassis were supplied by Crossroads Truck and Bus, in Hull, and the bespoke bodywork was built by Shawtrack Services in Mansfield, Nottinghamshire.
They will be used to deliver a wide range of Hird hire equipment across the UK, including pick and carry cranes, spider cranes, cherry pickers, scissor lifts, and glazing robots.
For more information about Hird's national equipment hire service, available from our three regional operating centres, call today.
Email: [email protected]