Make light work of glass installation – Hird glass carts
A glass trolley is a glass trolley, right? Not true, when it comes to the new Hird glass carts range now available from Hird.
We're taking the practical task of transporting glass to the next level, with these glass trolleys that offer excellent capacity, functionality and performance.
Our glass lifting equipment hire customers are already won over the by these excellent plate glass trolleys – with three models to choose from.
The German-designed and built glass trolley range is designed to support the installation of larger, heavier and even curved glass panels.
It means our glazing installer clients do not compromise on productivity or health and safety, whatever a particular project throws at them.
This glass trolley is perfect for working in confined space, especially at the point of installation – for example where scaffolding or roof supports might impede access to window frames.

It has an impressive 700kg capacity and is fully adjustable between glass plate sizes of 2000mm and 3500mm.
The Ultra Narrow Plate Glass Trolley is designed specifically for moving large double glazed units or shop windows.
With steering arms at both ends, it is highly manoeuvrable and easily managed by the smallest glass installation team.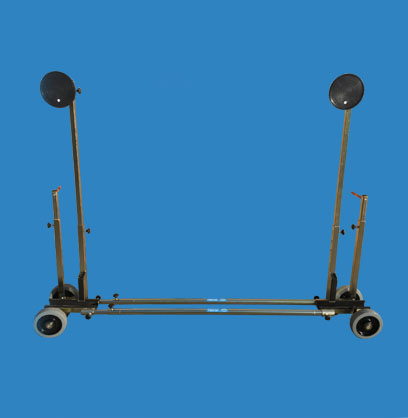 This impressive glass trolley has a maximum lifting capacity of 1,000kg and can handle plate glass sheets up to 100mm thick. So, handling glass panels is bulletproof, literally if need be!
Like the Ultra Narrow Plate Glass Trolley, this Wield model is fully adjustable and can be collapsed for easy transportation to or from the glass installation site.
To add to the flexibility of this glass trolley, support rods can be fitted to transport loads up to 6000mm in width.
And thanks to its large, robust wheel sets, these plate glass trolleys also have limited capacity for operation on uneven ground, which supports glass installation on construction sites.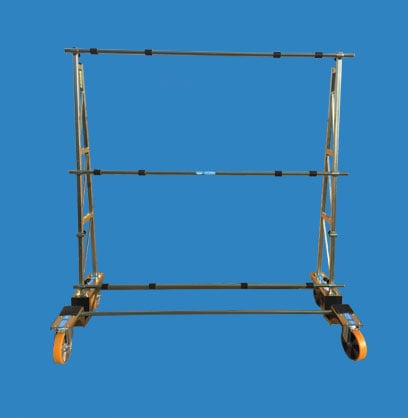 This plate glass trolley has been designed specifically for transporting large curved windows or insulation panels – and is in particular demand for retail fit-outs.
It can handle panels or curved glass sheets with a maximum thickness or depth of 318mm – and is fully adjustable to handle glass sheets up to 6000mm wide.

Again, the Curved Glass Trolley has limited capacity for operation on uneven ground, so can cope with many challenges of glass installation on construction sites.
It is also collapsible for ease of transport.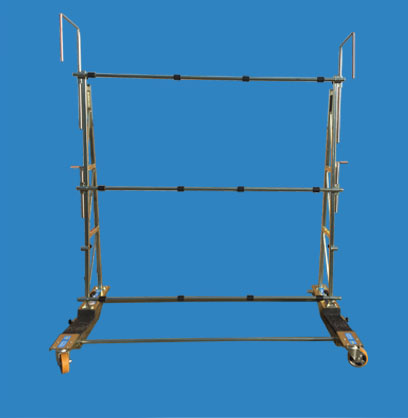 Hird Direct John Wilding said: "As the use of glass in many types of buildings becomes more sophisticated, and larger glass sheets are used, these heavy duty plate glass trolleys are coming into their own.
"Glass installations specialists want to know they have glass transport and lifting equipment that is specifically designed for the task at hand, and that is what Hird promises to supply.
"When combined with other glass lifting equipment we have for hire, including glazing robots, mini cranes and vacuum glass lifters, glass installers have all the technology they need to get jobs done quickly and cost-effectively."
Email: [email protected]