Challenging new building designs need new façade construction techniques. That is why innovative equipment supplied by Hird, such as the Winlet glazing and materials handling robot, is in such strong demand.
Mini crane, glazing installation and powered access specialist Hird is the authorised UK and Ireland dealer for Winlet glazing robots, which one client has called the biggest step forward in glass installation in 10 years.
The Danish glazing robot, available for hire or sale, is compact, light and easy to move. It can lift, carry and place, with absolute precision, glass sheets or any other non-porous panels up to 600kg, even overhead.
Hird Director John Wilding said: "More than ever before, architects and developers are taking account of advances in construction process, as they seek to minimise development costs by reducing build times, and simplifying construction techniques.
"This is where the Winlet glazing robot comes into its own. It has proven to increase production by 50% on a range of sites, including high-rise towers in London. As well as being faster, it's safer and uses smaller installation teams."
The Winlet glazing robot is just one powerful range of machines supplied by Hird.
The company is a UK leader in hiring mini cranes including Valla pick and carry cranes – Hird is the authorised distributor for Valla in the UK and Ireland – and UNIC spider cranes, both ideal for building façade construction.
Hird also has an unrivalled selection of vacuum lifters for hire, for flat or curved sheets, and loads up to 2,000kg – plus a full range of powered access machines, including scissor lifts, cherry pickers and personnel masts.
John Wilding, who runs the company's Southern Operational Hub at Redhill, Surrey, said: "The Winlet glazing robot range has done exceptionally well since we introduced it to the UK.
"It is, without doubt, the biggest innovation in the glass lifting industry in the last 10 years. That's not coming from us, it's a comment from one of our clients.
"A key benefit over other glazing robots is its fully automated positioning, which can be controlled at a touch of a button. It is extremely smooth, precise and user friendly, dramatically reducing manual handling for glass installation.
"Our clients are saying it's a revelation. Their operations have become safer, faster, and less labour-intensive, which means lower costs as well as better service to end-user customers.
"Winlet glazing robots are also highly compact and operate with very low ground pressures, so are perfect for operating in confined spaces on construction sites, whether at ground level or 50 storeys up a new tower block."
The success of Winlet is one reason Hird is becoming a major force in building envelope construction in the UK, prompting a significant investment in equipment during 2014.
Hird has nearly doubled the size of its fleet of its Winlet fleet across the range, including the Winlet 350, 575 and 600 – the numbers reflecting the lifting capacity of each machine in kilogrammes – as a well as new Valla pick and carry cranes, spider cranes, and glass vacuum lifters.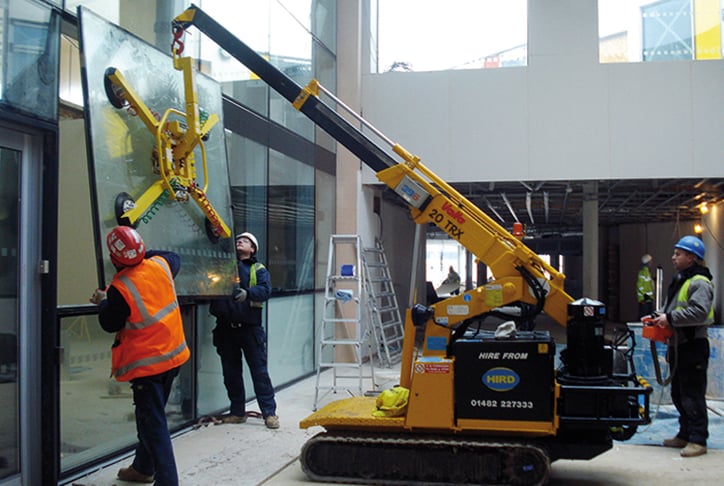 Hird Managing Director Phil Hird said: "We aim to be a one-stop-shop for materials handling and lifting, and working at height, anywhere in UK.
"Whether our clients need pick and carry cranes, with a range of materials handling attachments, or all-terrain spider cranes, we can meet their needs.
"With Hird, a 'can do – must do' spirit comes as standard. Excellent customer support, including training and a full delivery and collection service, is absolutely central to what we do."
For more information about the Winlet glazing and materials handling robot, or other machines available for hire or sale from Hird, Telephone 0203 174 0658 or Email: [email protected]