Hird has played a big part in expanding the use of glazing robots in the UK so it was only natural that we would pioneer the development of training to use them.
Our Training of the Month aperture for July is filled by the LEEA vacuum robot course – giving delegates important skills and knowledge in the use of these very useful machines.
Hird is the UK and Ireland authorised distributor for Winlet glazing robots.
Leaders in their field, Danish company Winlet manufactures vacuum robots that can lift loads from 350kg up to 1,000kg.
If you are going to use innovative and very capable kit, it makes sense to be trained to use it properly, both for safety and operational productivity, which is where our LEEA vacuum robot course comes in.
Not to put a finer point on it, Hird designed the course and the Lifting Equipment Engineers Association – that's the LEEA – was so impressed it agreed to accredit the training.
That means other training providers can deliver the same course, but if you want to receive your training from the people who invented it, we humbly suggest you talk to us first.
Who should attend the course?
The course is aimed at people who use vacuum robots. Many, if not most of them, will be operating the equipment for glazing. That is what vacuum robots are used for most.
But Winlet vacuum robots are also used to lift and carry glass panels in factories and other non-porous sheet materials, such as plasterboard, plastic, metal, and even glass-reinforced concrete.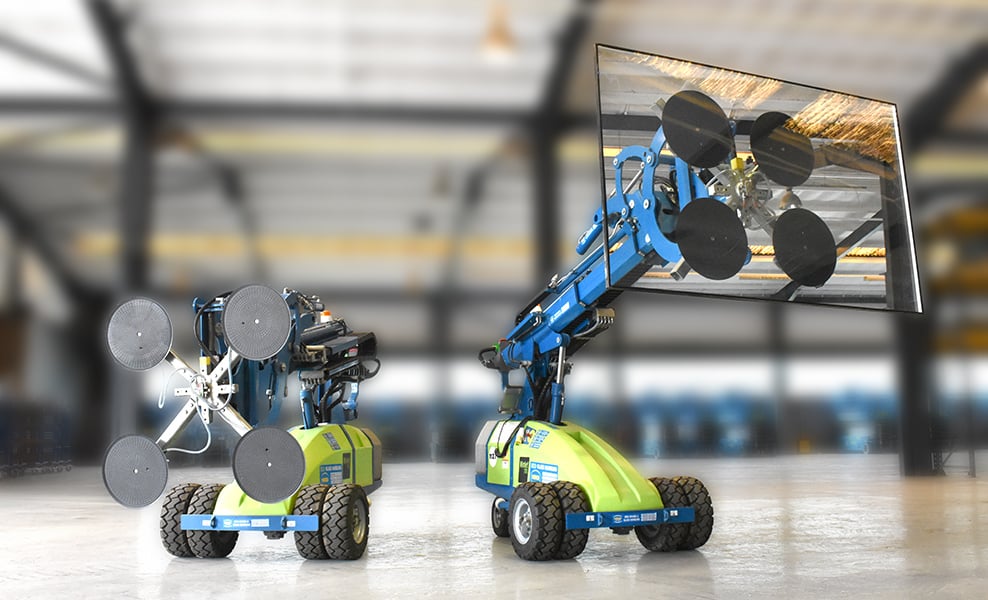 Course members will be a mix of operators with no experience of using vacuum robots and others who are experienced at using the machines, but need certification, for example to work on a specific contract.
Of course, structured training like this LEEA vacuum robot course underpins safety, productivity and succession planning in any effective operational team so should, in our view, be considered a norm.
What are vacuum robots?
For the sake of this course, the training centres on the use of mobile vacuum robots used to lift, carry and place sheet materials already described.
Most are wheeled vehicles, though Winlet now supplies a tracked vacuum robot. Most of the machines are used in the construction or building maintenance industries, or in manufacturing.
Vacuum robots make it easier and safer to carry and install loads with precision. They reduce the need for manual handling, allowing work to be done with smaller teams.
LEEA vacuum robot course content
The course lasts one day. A maximum of three delegates can attend each course. The courses are held at all our training centres, in Hull, Doncaster, Halesowen or Redhill, or on a customer site.
You can be sure that, as leaders in vacuum lifting in the UK, our training instructors will be highly effective at sharing their knowledge and skills, making the course fulfilling and enjoyable.
Course content includes regulation and guidance relating to vacuum robots, pre-use checks, controls, operation of the vacuum robot unloaded and loaded, steering, the hydraulic system, weight assessment and signalling techniques.
Health and safety is a central theme throughout, including understanding the operator safety code. At the end of the course, delegates must pass both theoretical and practical tests.
Vacuum robot certification
Successful delegates receive a LEEA certificate and photo-card valid for five years. At which point, the holder will have to undergo refresher for the qualification to be renewed.
For more information about Hird's LEEA vacuum robot course, call us today. Our experts can also advise on Winlet glazing robot hire or sales, both of which can be combined with team training.
Telephone: 01482 481965. Email: [email protected]