A tracked spider crane supplied by Hird has been used to help develop the farm of the future.
The Maeda MC405 mini crane was one of the only cranes in the UK compact enough to be operated inside the high-tech hydroponic centre.
The spider crane was needed to lift and move machinery needed to create a vertical farm – where plants are grown on stacks of huge shelves not in fields.
Mini crane not tractor
Huge indoor farms like this are expected to become commonplace as technology is developed allowing crops to be grown intensively in climate-controlled, pest- and disease-free environments.
In this farm, the tractor is replaced with the crane, the powered access machine and the material hoist, which is where Hird's expertise came into play.
Hird Managing Director Phil Hird said: "It's exciting to think our spider cranes are helping define what farming means in the UK.
"These vertical farms will allow food to be grown closer to and even inside towns and cities, which reduces transport costs and is more efficient."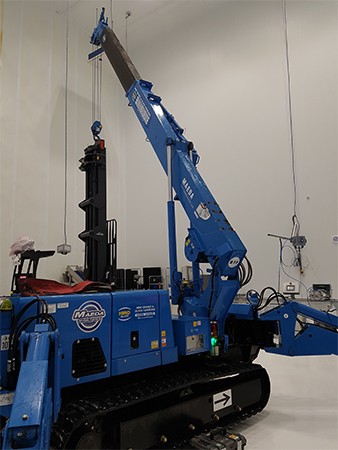 Confined space operation
The owners of the vertical farm in North Lincolnshire, needed to assemble machinery as it expanded and developed its highly advanced agriculture system.
Only a spider crane, which is designed to be operated in confined spaces, was narrow enough to be moved into the space to carry out the lifts needed.
The Maeda MC405 mini crane has a maximum safe working load of 3.83 tonnes yet is just 1380mm wide in transport mode.
The electric spider crane has a maximum working height of 16.8 metres, which extends to 20.7 metres when fitted with jib.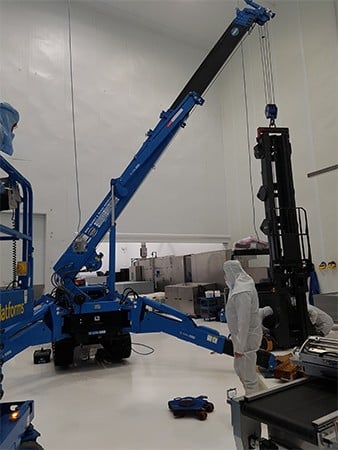 Clean lifting
Phil Hird said: "This vertical farm is a very controlled clean environment, which is where the electric Maeda MC405 mini crane scores highly.
"It is fume-free and low-noise. It has non-marking rubber tracks and its light weight and use of outriggers means it can operate over sensitive floors without causing damage."
It may seem strange to think that tomorrow's farmers are likely to be more adept at operating a mini crane than a tractor.
With Maeda spider cranes at the ready, alongside Valla pick and carry cranes, they can give the British farming industry a lift in a way that is safe, clean, and efficient.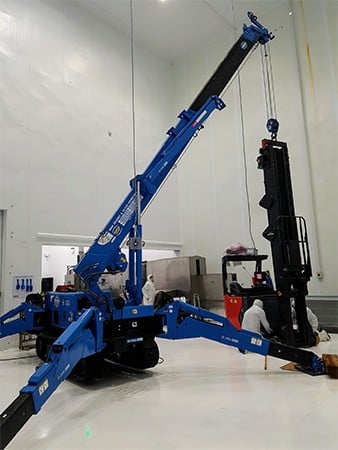 Email: [email protected]