For many people visiting M&M's World in Leicester Square it might well have been one of those "how did they do that?" moments.
A 1,300kg Mini convertible sitting in a basement of a sweet shop, surrounded by display stands, with no obvious way of driving the vehicle into the confined space.
Of course, many shoppers will be fully focussed on the sweets, but let us assume there are some curious and discerning punters among the Christmas crowds.
Well, we can reveal the car did not appear as if by some Santa magic. No, it could take pride of place in the shop display thanks to a Maeda spider lift supplied by Hird Group.
Then again, getting the tracked Maeda MC285 spider crane in position for the lift a bit of a challenge. But only a bit…
Hird's client, machinery moving specialist QML (UK) Ltd, planned the lift during two visits to the site. The mini crane had to be located on a first floor balcony to be in position to lift the Mini from the ground floor to the basement below.
Thankfully, the spider crane is just 750mm wide, nearly one metre narrower than the Mini (1,727mm), and just 2,715mm long, so could be moved into position.
With its outriggers extended, and floors protected by lifting pads, which also spread the point load of the machine, the lifting team was ready to lower the Mini into position.
Hird Director John Wilding said: "This job demonstrates just how useful Maeda spider cranes are for completing complex lifts like this.
"Without these kinds of mini cranes, and the advanced control and safety systems they provide for operators, it would be nigh on impossible to achieve."
Not being able to get a Mini Convertible into a sweet shop basement? Unthinkable!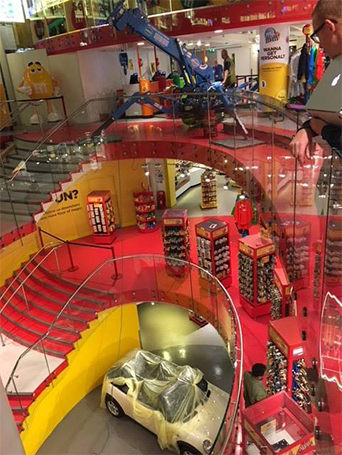 Thankfully, event management companies that wish to challenge convention – and what is possible in terms of getting large objects into small and seemingly inaccessible places – can hire advanced lifting equipment from Hird.
For more information about spider mini cranes, powered access equipment, and glass lifting equipment hire options, call Hird today.
Email: [email protected]