A glazing robot supplied by Hird has delivered a performance hat-trick for contractors working on the new PHB Stadium in Kent.
The Wirth Oktopus GL-CC777600 is allowing glass installers to carry out their work safely, quickly, and with perfect precision at all times.
Hird provided the glass vacuum lifter along with a Maeda MC405 mini spider crane to install the glass panels as part of a refurbishment programme at the stadium in Northfleet, near Gravesend.
The stadium is home to Ebbsfleet United, a football club in the National League South, the sixth tier of English football and is developing a £6m new main stand.
The combination of the Maeda mini crane and the Oktopus glazing manipulator was ideal, because it allowed the glass to be lifted up and over construction security fencing to be installed directly into the new stand.
This could be completed with minimal manual handling, and movement of the glass through the construction site, which optimised both productivity and safety.
The Oktopus glazing manipulator has a vacuum lifter with four vacuum lifter suction cups. It can be fitted with extension arms to increase this to eight suction cups for larger loads.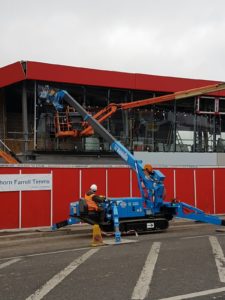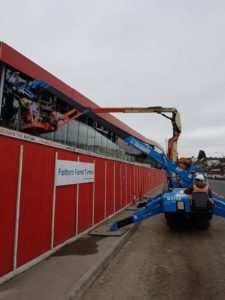 Standard lifting capacity is 300kg, which increases to 600kg in its extended format.
Safety is maximised with dual independent vacuum circuits, designed to still hold the load if there is a catastrophic vacuum failure. It has vacuum gauges for each circuit, and an audio-visual low vacuum alarm.
Our Maeda MC 405 spider cranes have a maximum working height of 16.8 metres and a maximum safe working height of 3.8 tonnes.
With a maximum working radius of 16 metres, this mini crane was ideal for the reach up and over element to this glass lifting project.
Hird also provides a full range of glass lifting and mini crane operator training, and can also supply all powered access hire equipment, such as cherry pickers, to complete these glass installation projects.
All equipment and training options are available across the UK via our three regional operational centres. Call us today for more information.
Email: [email protected]