Curtain wall lifting equipment specialist Hird has supported a client in completing a large office glass installation project well ahead of schedule.
The glass installation in Leeds, West Yorkshire, was scheduled to take three weeks yet it was all finished in just a week and a half.
Hird was commissioned to supply one of its Maeda MC405 mini spider cranes, plus a crane operator, and a Woods Powr-Grip P11104 vacuum lifter plus a Woods Powr-Grip MRT4 vacuum lifter for the glass installation work.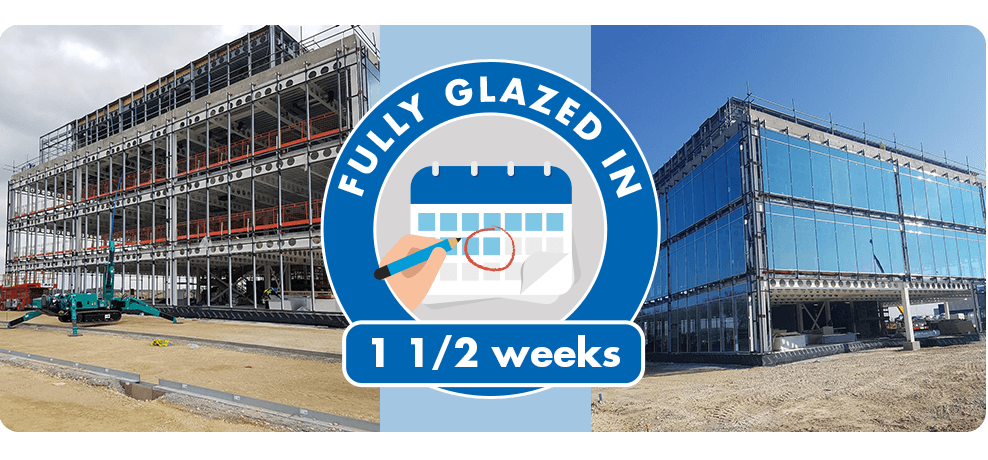 Right kit – excellent teamwork
During the work, the MRT4 vacuum lifter was combined with a Spierings four-axle mobile tower crane to carry out roof-level glazing.
Hird Managing Director Phil Hird said: "A combination of the right expertise, the right glass lifting equipment, and excellent teamwork during a professionally-planned and executed job ensured this project was completed quickly and safely.
"Our client was very pleased to complete the glass installation ahead of schedule. It meant they could make best use of some good weather to for next-stage tasks. We're delighted we were able to support them make such good progress."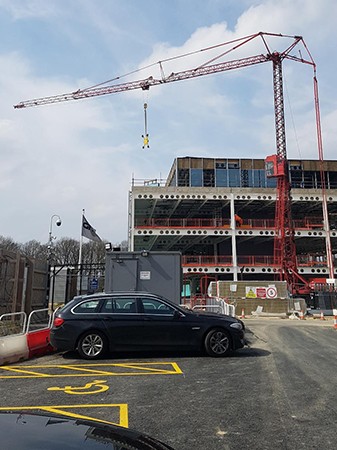 Safe glass installation
The Maeda MC405 spider crane has a maximum safe working load (SWL) of 4.83 tonnes and a maximum working height of 16.8 metres, which can be extended to 20.7 metres with an optional jib.
The mini crane's powerful two-speed winch supports safe and precise lifting while its remote-control function allows the crane operator to oversee lifts from the best position to maximise safety and productivity.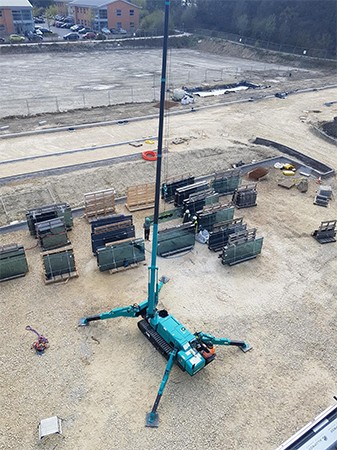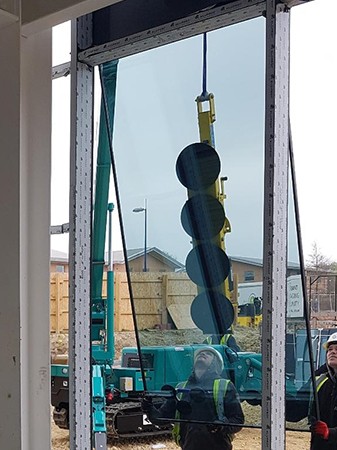 The Woods Powr-Grip P11104 is a 'four-in-line' vacuum lifter with a maximum lifting capacity of 320kg.
Its dual-circuit vacuum system and low suction alert helps ensure the load is always held safely.
Hird can supply the latest model of the vacuum lifter with an improved push-button control panel, and a new lift bar that allows even more precise load positioning during glass installation.
The Woods Powr-Grip MRT4 is another of Hird's most popular glass vacuum lifters. I can be operated in many different configurations, from a short-arm set up to the addition of variable-length extension arms for lifting larger loads.
The vacuum lifter has a maximum lifting capacity of 320kg. The load can be rotated though 360 degrees and tilted between horizontal and vertical, both manually.
Tracked spider crane hire options

For more information about tracked spider crane hire and glass vacuum lifter hire from Hird, call today. The company delivers a national service and can provide equipment-only or carry our contract lifts.
Hird also delivers accredited mini crane operator training and vacuum lifter training, either on site or at one of its bespoke training centres.