Hird spider cranes and powered access machines are helping create one of the most luxurious places to live in London – in one of the UK capital's most iconic locations.
It is supplying equipment to support the construction of One Tower Bridge, located on one of the last great riverside sites in London, and overlooking many other iconic buildings Hird spider cranes and glass lifting equipment have helped to build.
One Tower Bridge offers five star apartments ranging in price from £1.275m to £15m in new buildings that are from five to nine storeys high, finished off with a 20-storey tower.
Our picture was taken on the top of one of the new buildings, showing one of Hird's UNIC 295 spider cranes, which is being used to lift and install glass panels, using a Hydraulica 1000 glass vacuum lifter.
The project has also made use of Hird's platform hire service in London, with 1932 Genie scissor lifts, 2632 Genie scissor lifts and Youngman BoSS X3X access platforms all supporting the construction process.
As with many modern buildings in the centre of London – whether office or city living developments – glazing is a strong feature, as glass offers ultra-modern design, maximum light, and iconic views across a global city.
This keeps Hird's mini crane hire and glass lifting service in London busy, as it has the best range of spider cranes and glass vacuum lifters to support the lifting and installation of glass panels and windows of every size, shape, and weight.
Spider cranes are ideal for glass installation as they are light, compact and can be moved into positions through narrow doorways and into confined spaces, then get to work lifting heavy loads in complete safety.
When spider cranes are combined with Hird's glass vacuum lifters, they can support glass installation with absolute precision.
Our view from One Tower Bridge shows a number of other iconic buildings Hird spider cranes and vacuum lifters have been used on.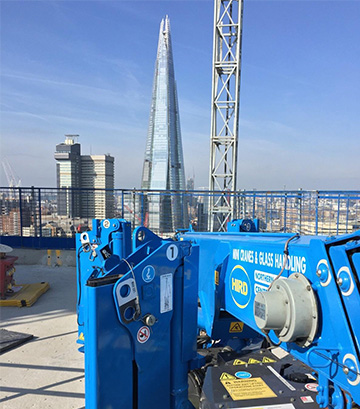 These include The Shard, Europe's tallest building – where nine Hird UNIC spider cranes and glass lifters worked for 18 months, installing 11,000 panels of glass throughout the building's 73 storeys.

Other now iconic developments Hird's glass lifter hire and spider crane hire services were kept busy on include 20 Fenchurch Street – the Walkie-Talkie building.
There, again, a combination of a UNIC 295 spider crane and a Hydraulica 1000 glass vacuum lifter supported the installation of glazing panels in the Sky Garden, which offers stunning 360 degree views across London.

There is also the 230m Heron Tower and the 255m Leadenhall Building – better known as the Cheesegrater: in both cases, Hird spider cranes and vacuum lifters were put to use lifting and installing hundreds of glass panels.
Hird Director John Wilding said: "Every direction you look in, standing almost anywhere in the City of London, you will see a building where Hird spider mini cranes and glass vacuum lifters, as well as other glass lifting equipment, such as glazing robots, glass lifting slings, vacuum cups, and glass trolleys and stillages, have been used during the glass installation process.
"It's both humbling and very exciting to know what our fantastic spider crane hire and glass lifter hire teams in London are achieving in supporting the ongoing development of one of the world's great cities."
For more information about our spider crane and glass lifting hire services in London and across the UK, get in touch today. We provide a national service through our three regional operating centres.
Email: [email protected]