There is a lot to consider when planning a lift whether it involves using a mini crane or larger mobile crane. Hird Mini Cranes Sales and Aftersales Manager Carl Cooper, last month, went through the first 5 of ten questions you should ask yourself when planning a lift.

Here, he gives his views on the final five questions – which focus on key issues, such as health and safety, the efficiency and effectiveness of the lift, the cost of the lift and the need to protect the load. Carl is talking primarily about pick and carry mini cranes, sometimes referred to as compact cranes. Hird has a Valla pick and carry mini crane hire fleet, and a mini crane sales service.
Is the environment sensitive to noise?
Increasingly, companies have to consider environmental issues, such as noise, pollution, or disruption to external parties, such as road users or local residents, when planning a lift. Valla DC electric mini cranes could be an ideal option if noise or the generation of fumes are risk factors.
Valla electric mini cranes are designed to operate on full power for a full eight hour shift. They have the latest battery, motor and electric controls technology to minimise power use, reducing costs and making recharge times as short as possible. Depending on the model, these pick and carry mini cranes can be charged using 110 volt, single phase or three phase power sources.
As electric-powered mini cranes, these machines also contribute to a sustainability strategy. They have a low carbon footprint and do not contribute to local pollution.
Is the lift in a life plant environment?
It makes sense to reduce the complexity of a lift. This is especially true in live working environment such as factories, or other production facilities like power stations. Using larger cranes can result in the need to lift over equipment and work areas or carry out blind lifts. This increases the complexity of the lift, the number of people involved and the risks that have to be considered. Costs and the length of time needed to carry out the lift will be increased.
Carl Cooper says: "Using mini pick and carry cranes can simplify the lift. They reduce the need to lift over equipment or work environments because they are compact enough to get closer to the point of lift, then carry the load to where it needs to be placed.
"As such, a Valla mini crane offers a single point lifting solution that reduced disturbance to the site, reduces the complexity of the lift, manages risks more effectively, simplifies risk assessments and method statements and reduces costs."
Do you need to reduce the down time on the lifting problem?
Time is money, now more than ever. Carrying out a lift may require other processes to be curtailed or stopped altogether. Downtime on production facilities for setting up a lift, carrying it out and breakdown or a large crane may need to be calculated carefully.
Valla mini cranes may give an alternative option. Pick and carry cranes can reduce the downtime of a lift, while reducing the actual cost of the lift element of the project. Mini cranes can lift, carry and install in a single process. The alternative might be to use a crane, a transporter and, conceivably a different crane at the other end of the process to reinstall. Adding elements to the process increases the number of people involved, the risk factors to consider, the time taken and probably the cost.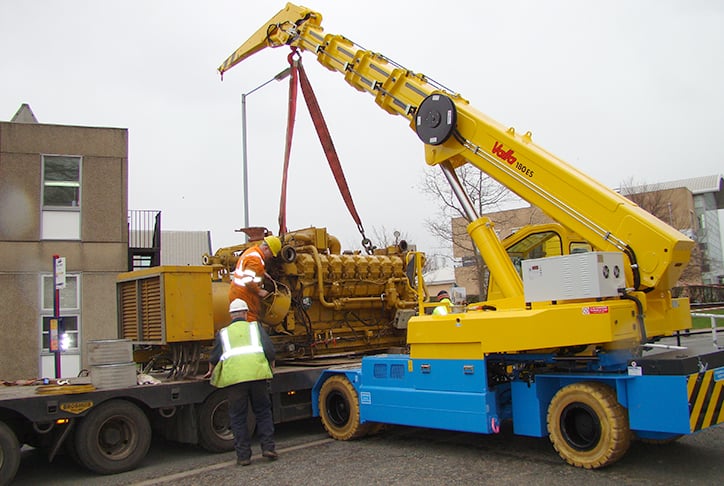 Is there a chance of any damage to the load?
When planning a lift, you obviously want to get the load from A to B in one piece. The less you do to that load, the fewer processes you put it through – the less risk there is that it could be damaged. That is particularly the case in environments that present high risks – where space is limited or is not simple to move around in.
Valla mini cranes help you overcome these issues. As pick and carry cranes they are designed to move loads safely, and under constant control. Some mini cranes have carry decks that allow you to rest the load down during the move.
How much do you value your load?
In some senses, this is the same question to ask as 4. But it focusses on a key issue – the value of the load you are moving. It could be worth many thousands, if not millions of pounds. It could be absolutely vital to a production process, the stopping of which for anything more than a short period of time would be a disaster.
In these circumstances, you want the best lifting solution available. If that means using a mini crane, that is what you need to select. For example, if something went wrong, and your insurer concluded you selected a mini crane was not used and should have been, there is a risk your insurance would be considered invalid.
Carl Cooper says: "Valla mini cranes also have load indicator safety systems which ensure the lift is controlled at all times. These digital safety and performance monitoring systems contribute significantly to eliminating risk to the load, the crane, its operators and other people – and help improve lift productivity.
"Mini cranes, like Valla pick and carry cranes, are often the best solution where a lift involves moving an item from one place to another in a confined space. Mini cranes help you control costs, as well as risks, reducing the complexity of the lift. Mini cranes, essentially, help you get your lifting job done safely."

Hird is the UK and Ireland authorised dealer for Valla mini pick and carry cranes. We offer mini cranes for hire and for sale. We also have a comprehensive spider crane hire fleet, offer a machinery moving service and a contract lifting service.

All our mini crane services can be accessed nationally through our three operating hubs.

Northern – 01482 227333
Central – 01302 341659
Southern – 0203 174 0658
Email: [email protected]