Innovation is not just about creating something new. It is also adapting a product so it can be used differently.
Which perfectly describes out Product of the Month for June – the Winlet 350 TH glazing robot.
Winlet had the very bright idea to remove the wheels on a glazing robot and replacing them with forklift pockets.
In doing so, it has created a glazing robot that can be lifted with a telehandler or forklift to support glass installation at greater height and in hard to reach locations.
Transparent genius
To be fair, the very nature of how new uses for products are discovered means there are often very unexpected twists and turns in the innovation journey.
For example, Frisbees were once pie containers. Chainsaws were first invented to slice through bones in the operating theatre, not trees. Bubble wrap was first sold as a wall paper.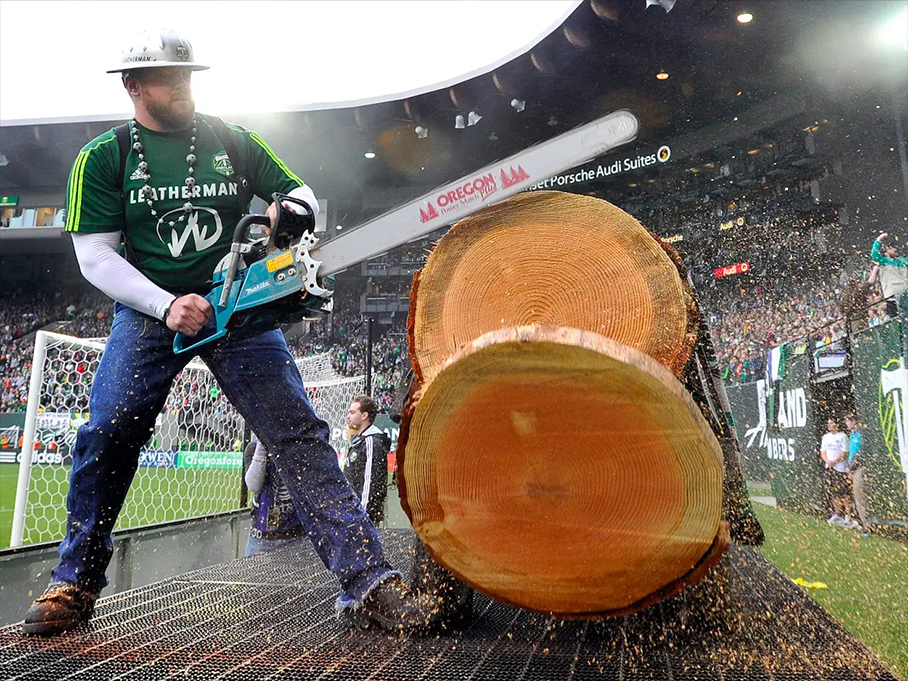 And, according to Business Insider, Play-Doh (remember that wonderful smell?) was first invented to clean dirt off wallpapered walls.
Then there was Dr Stewart Adams. He spent 10 years at Boots in Nottingham trying to invent a new drug to ease rheumatoid arthritis. Then realised he and his research team found they had discovered ibuprofen – after he used it to cure a hangover before giving a business presentation.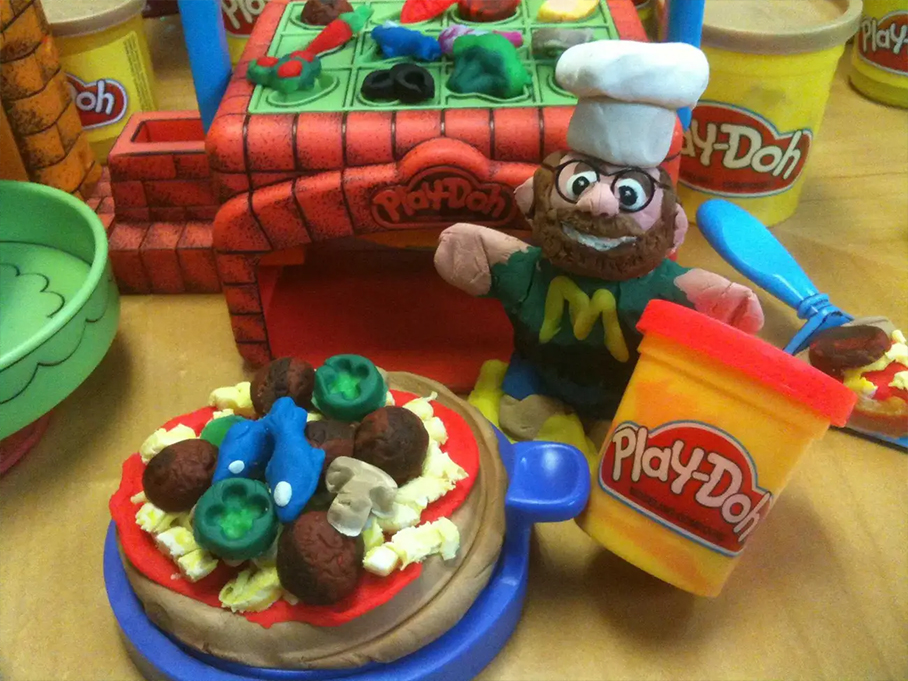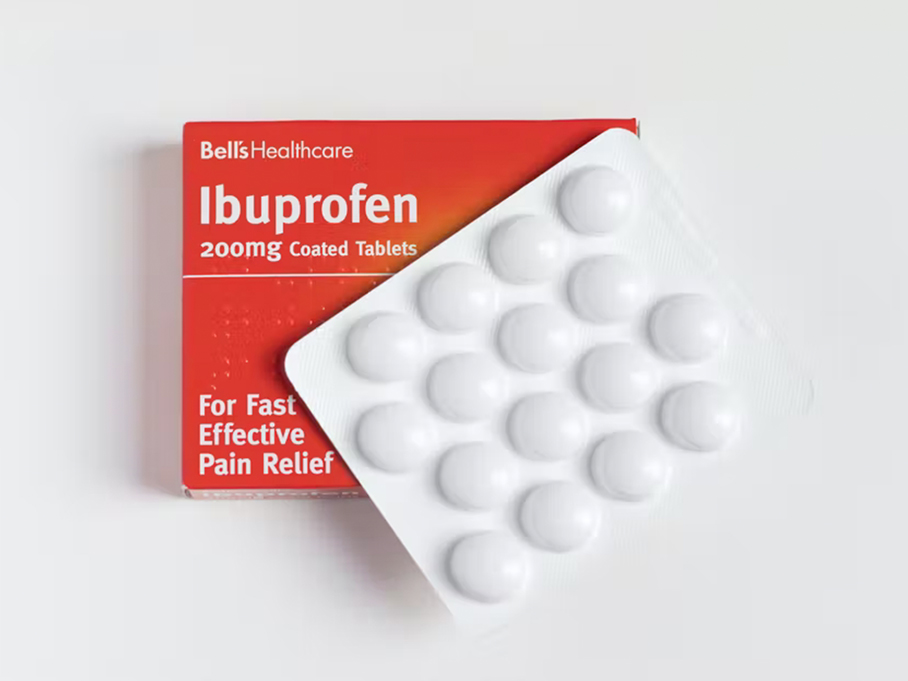 Cost-effective lifting
Thankfully, for glass installers, Winlet didn't take a decade to realise that creating the Winlet 350 TH would help cure some big glass lifting headaches.
What is so good about this particular glazing robot is that, being paired up with a telehandler, it makes use of a machine that is commonly used on construction sites.
There is no need to bring additional specialist equipment on to site to install glass at height, making the Winlet 350 TH a highly sustainable and cost-effective glass lifting solution.
Not that it stops at lifting glass. Fitted with special vacuum cups, Winlet glazing robots can also be used to lift a wide range of sheet materials, including plasterboard and sheet metal.
The Winlet 350 TH glazing robot can be set up with four or six glass suction pads, and can be fitted to almost all telehandlers and forklifts.
It has a maximum lifting capacity of 350kg (the machine, itself, weighs 400kg), and can rotate loads though 360 degrees and tilt them through 180 degrees for precise positioning.
The battery-powered glazing robot has a wired remote control, allowing the operator to control the installation process from the ground or an aerial platform.
Impressive manipulation
While the telehandler will be used to get the glazing robot as close as possible to the installation point, the machine itself also has excellent reach.
The lifting arm has a maximum working height of 2700mm, and a maximum extension (from the front bumper to the suction cup) of 790mm.
The load can also be moved left to right through 90mm to allow perfect fine adjustment of glass panels before being placed into the an aperture.
And, like all other Winlet glazing robots, the 350 TH can be used to lift and install glass directly overhead – at which point its maximum safe working load is 200kg.
These capabilities are important when you consider that the glazing robot is designed to be install glass in the most challenging circumstances.
The Winlet 350 TH is often used for installations above obstacles, or where it is difficult to position many operatives close to the installation point for manual control of the load.
And, of course, because it is attached to a telehandler, it allows glass and other sheet materials to be lifted to locations above very uneven and muddy ground.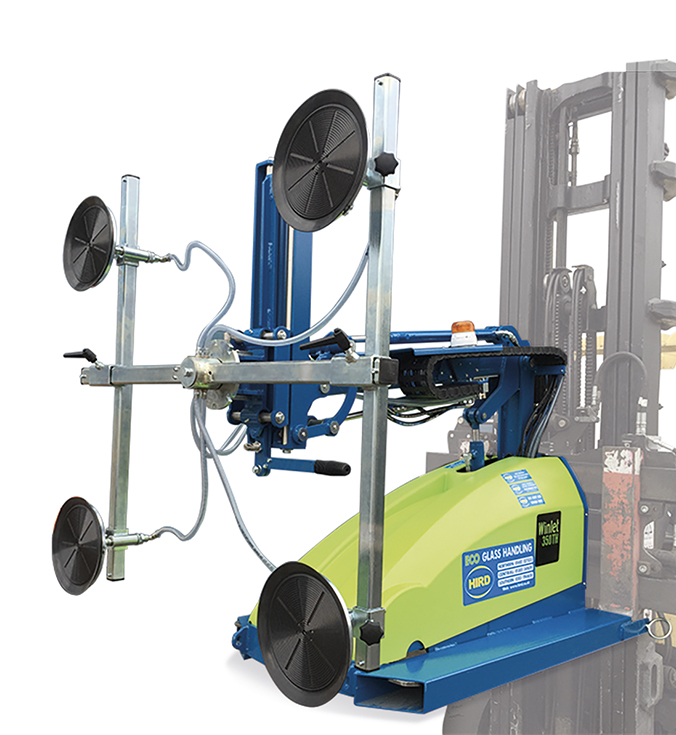 Glazing robot range
The Winlet 350 TH is one of just a wide range of machines in Hird's glazing robot hire and glass vacuum lifter hire fleets.
They include:
The standard Winlet 350, which can carry and install glass weighing up to 350kg.
The very popular mid-range Winlet 600, with a SWL of 600kg, which controls loads gyroscopically so they are kept in exactly the same plane when being moved up or down or from side to side.
And the Winlet 1000, with its SWL of 1,000kg. Like other glazing robots in the hire fleet, it has intelligent load monitoring to ensure loads and installation teams stay safe at all times.
A key advantage of using Winlet glazing robots – the Winlet 350 TH included – is that they simplify the lifting process.
They can pick up loads, carry them if necessary, then install them. Handover points between lifting and moving systems are eliminated, along with most manual handling.
Glazing robot training
Speaking of manual handling, Winlet glazing robots make lifting much easier, much like another product that came about by chance.
What began as a drug designed to lower blood pressure and treat angina was found to have a very useful side effect. And so Viagra rose to global prominence.
What is different about Winlet glazing robots, though, is that Hird can offer training, with an LEEA-accredited vacuum robot course (created by us) and has glazing robot plus operator hire options.
Call Hird today to find out more about our Product of the Month for June, the Winlet 350 TH glazing robot, available for hire across the UK from our four regional operational depots.