Think of a tracked vehicle and a lot of people will think of something huge and heavy, like a tank. Small and agile will not be first to mind for most.
Which is one reason why Product of the Month for June is the Valla 35D TRX tracked pick and carry crane. Just because a crane has tracks, it does not have to lumber.
The Valla 35D TRX proves that point. The small crane is remotely controlled and has a maximum safe working load of 3.5 tonnes, a max tip height of 7 metres, and a max radius of 5 metres.
A powerful but quiet diesel engine ensures the mini crane can deliver sustained performance in a wide range of external and semi-enclosed environments.
This includes, of course, operating over less than ideal ground, with the mini crane's tracks making light work of rough terrain. There are not many work sites the Valla 35D TRX cannot reach.

Small crane – powerful lifting capacity
One reason for that is its size. Despite its excellent living capacity, the small crane is just 1500mm wide, 1650mm tall and 2905mm long from hook to rear end.
This allows the Valla 35D TRX to be guided into some tight spots with ease. What is more, being a tracked mini crane, it spreads its weight, making it an ideal choice for lifting operations on low load bearing ground.
These are the qualities that challenge perceptions that prevent some crane hire customers from not realising a tracked small crane could be a first choice for their lifting project, not an afterthought.

Valla 35D TRX can tick your lifting boxes
The Valla 35D TRX tracked mini crane has excellent lifting capacity for its size
It is small and agile so ideal for operating in confined space
It delivers excellent performance over rough and instable ground
As a diesel-powered mini crane, it has excellent productivity
It has excellent safety features including visual and audible load safety indicators

A mini crane that improves safety and productivity
Like all Valla cranes, the 35D TRX may also prove to be the safest, most sustainable, and least disruptive lifting solution.
The crane's pick and carry function can reduce manual handing, cut the number of handover stages in a lifting process and reduce the operational envelope for any lifting task.
The flexibility delivered by multi-tasking Valla pick and carry cranes make them indispensable lifting tools, often replacing a wide range of sub-optimum lifting systems across many different work sites.
They can use be combined with a range of lifting accessories, such as glass vacuum lifters and material grabs, so they can quickly be repurposed for a wide range of lifting functions.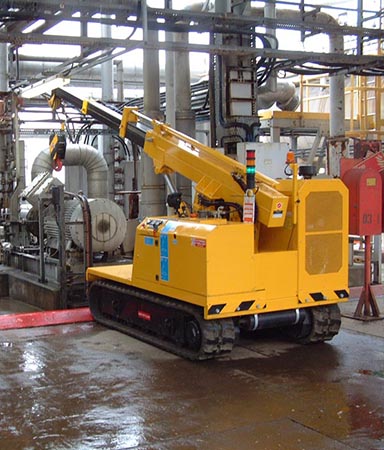 A mini crane that cuts it across many industries
The Valla 35D TRX mini crane is at home working on a construction site to support steel erection, curtain wall fitting, and glass panel installation.
It is also just as capable for equipment maintenance and machinery moving in manufacturing and process industries such as gas, oil, and chemical production, metal foundries, and stone cutting.
Take a fresh look at the Valla 35D TRX tracked mini crane, and other compact cranes available from Hird Group. They are all designed to make lighter work of your lifting project.
Hird provides a pick and carry hire service across the UK via three regional operational centres. Contact Hird today to find out more.
Email: [email protected]