Our Hird Product of the Month for October is the Valla 220SE pick and carry crane – the industrial crane for the 21st Century.
It's packed with so many useful lifting features, you could call it the Swiss Army Knife of lifting.
In fact, we would not be surprised if there was a six foot long tooth pick hidden somewhere beneath the front axle.
Capable and versatile
The Manitex Valla 220SE was designed specifically for the aviation industry, with significant Hird insight and expertise.
But it is so capable and versatile that the pick and carry crane can be applied to any industrial environment and do an unrivalled job.
Simplify the lifting process. Carry out multiple precision lifts through 360 degrees from a single spot. Contribute to a low-noise working environment. You name it, the Valla 220SE does it.
Key to its success is the fact that it is an electric crane.
This allows the compact crane to work both indoors and outdoors. Also, more precisely, to do both to complete the same lift.
Virgin first
As we mentioned, the crane was designed for aviation maintenance. Hird supplied the first Valla 220SE mini crane ever made to Virgin Atlantic Airways, through its lifting partner Rushlift.
The sale resulted from a thorough review of the lifting requirements of Virgin Atlantic's aviation maintenance team.
It needed a crane that could operate in clean engineering environments.
A crane that was low noise, so collaborate working on safety-critical systems were not disturbed.
It had to be a slewing crane, with excellent working height and radius, and an ability to operate safely at all angles around very expensive aircraft.
Also, Virgin Atlantic wanted an industrial crane that allowed its engineering team at Gatwick Airport to break out of the hangar environment.
'Brilliant' crane
If necessary, maintenance technicians wanted to be able to carry out urgent repairs on the airport apron, with loads lifted and carried into or out of the hangar.
This would speed up the maintenance process, making their operations more flexible and responsive in a world where every second counts while safety remains the overriding priority.
So, the Valla 220SE pick and carry crane was born.
This is what Andy Currey, Tooling and Ground Support Equipment Manager at Virgin Atlantic, said when the mini crane was supplied:
"Hird immediately understood what we needed. Working with Hird to develop the specification and deliver this crane for us represents a major step forward in lifting applications.
"Craning and lifting in aircraft maintenance environments is challenging, because of the high value consequences of failure, and the procedures and regulations put in place as a result.
"Having this Manitex Valla crane has enabled us to move into the 21st Century in terms of our use of cranes to deliver key maintenance tasks. It is a brilliant addition to our equipment portfolio."
Sustainable lifting
The pick and carry crane has proved such a success that more have been sold to airlines across the world, each of them designed to meet specific requirements of respective engineering teams.
The Valla 220SE pick and carry crane can slew its boom continuously through 360 degrees. It has a maximum safe working load of 22 tonnes, a working height of 15.5 metres, and a reach of 13.5 metres.
The crane has fully-blocked and short-blocked duties, in both free-on-wheels and pick and carry modes. The Virgin Atlantic crane was also set up for intrinsically safe operation.
Virgin Atlantic was replacing an old Iron Fairy industrial crane that had delivered good service but was not fit for purpose for the latest, most sustainable lifting requirements.
And the Valla 220SE pick and carry crane can do just the same in many other industrial and engineering maintenance environments, especially where space is constrained (it's where the slewing function comes into its own).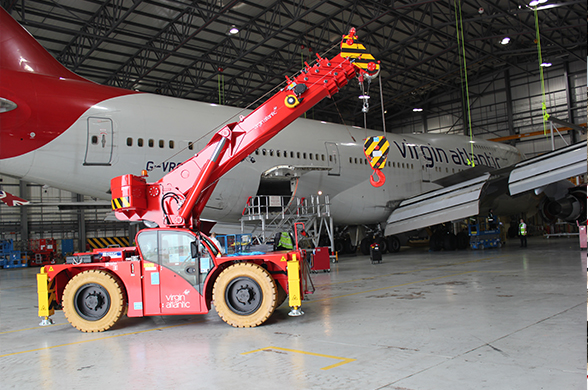 Many industrial uses
From heavy engineering to precision manufacturing, for example in an off-site modular construction plant, and on to machinery maintenance in power generation.
The Valla 220SE pick and carry crane represents the 21st Century best in class choice for lifting large loads in industrial environments.
What is good about it, is that it will improve safety, production, cost control, and sustainability all at the same time.
Find out more about Valla pick and carry cranes from Hird. If you do not see the one you need, as with Virgin Atlantic, Hird will work with you to build your own.
Now to go and have a look for that tooth pick.
Tel: 01482 227333. Email: [email protected].