We are in a world of ever greater sophistication. But sometimes you need a simple solution to a simple problem.
Which is why our Product of the Month for May is the plate glass trolley.
Or, to complicate things only slightly – plate glass trolleys – because Hird offers a range of the equipment for hire and for sale.
Plate glass trolleys are used for moving glass from A – usually the delivery vehicle – to B – usually the point at which it is to be installed in a building.
As stated, it is a simple task requiring a simple piece of equipment. But you would be wrong to think that plate glass trolleys are THAT simple.
The trolleys Hird supplies are very well engineered, robust and designed to be easy to use. So, the process of moving glass sheets is as easy as possible.
Take, for example, our plate glass trolley manufactured by Pannkoke. It has a capacity of 700kg and can take glass sheets up to 40mm thick.
The glass trolley can be adjusted to take loads between 2500mm and 4000mm long – and fitted with extension rods to hold and transport glass panels measuring up to 6000mm.
As a standard plate glass trolley, it cannot be beaten. But we recognise that glass comes in many shapes and sizes. There are also installation challenges that require specialist glass trolleys.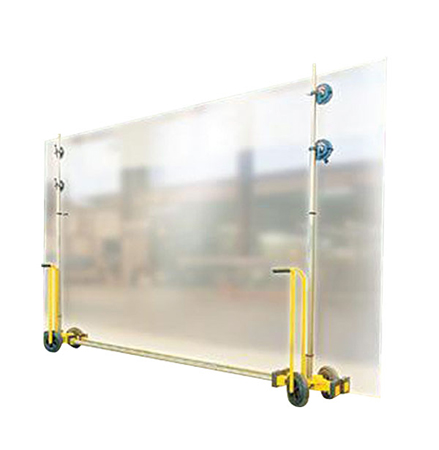 Technological advances are allowing ever larger sheets of glass to be incorporated into buildings, for example in shopfronts and office atriums.
In some cases, glass must be particularly tough – for example to provide bomb protection or be bullet proof, so is thicker than normal.
For both eventualities, Hird can provide a heavy duty glass trolley which can be used to carry glass weighing up to 1,000kg.
The trolley has been designed and manufactured to Hird's specifications.
It can take glass up to 100mm thick. In most cases, such panels will be made up of multiple laminated sheets.
The glass trolley is collapsible for easy transport when not in use, and has some off-road or pavement capability, helpful for use on building sites.
Another piece of glass installation equipment designed by Hird, the curved glass trolley can take non-flat panels weighing up to 1,000kg.
Architects have become more daring, especially with the design of shop and office fronts. So, we saw the need for the curved plate glass trolley.
It can safely carry glass panels up to 318mm thick and up to 6000mm long.
We have found there is often a need for a glass trolley that can get into the most confined spaces, especially on construction sites. The result is the ultra-narrow glass trolley.
All the other trolleys described here have been A-frame glass trolleys. As such, they are wider at the bottom.
But the ultra-narrow plate glass trolley holds its load in place with suction cups, so the machine is as narrow at the top as at the bottom.
This allows it to be guided into more confined spaces – for example where a shop front aperture is blocked by scaffolding.
The glass trolley has a maximum capacity of 700kg. It can take glass with a sheet thickness of 80mm and is fully adjustable for sizes between 2000mm and 35000mm.
As with the other glass trolleys, it can be steered from both ends, allowing easy movement in tight spaces.
Talking of tight space, there is clearly a need for a glass trolley that works particularly well in confined spaces. Our ultra-compact glass trolley is designed to fit the bill.
It has a maximum capacity of 500kg and can transport glass sheets up to 2200 x 2000mm. Its length can be quickly adjusted from between 500mm and 1200mm and has a shelf width of 100mm.
Where space is tight, the ultra-compact plate glass trolley is the right choice.
Glass trolleys for hire or sale
Hird can supply its glass trolleys for hire or for sale. Of course, customers can be provided with a full range of highly effective lifting equipment to complete any glass installation project.
This includes glass vacuum lifters, glazing robots, tracked spider cranes and pick and carry cranes, as well as lifting accessories, like slings and vacuum cups.
We also deliver manual handling training so operatives know how to work safely with glass trolleys, along with glass lifting courses – for vacuum lifters and glazing robots.
Call Hird today to discuss your plate glass trolley requirements and all other glass lifting and installation needs. We're ready to help.
Email: [email protected]