Working at height within a restricted space just got easier, because Hird can now offer powered access hire customers the Niftylift HR 17N boom platform – one of the most advanced narrow-bodied boom lifts on the market.
The Height Rider 17N (HR17N) bi-energy self-propelled boom lift is designed to provide excellent powered access capability while overcoming many of those obstacles – real ones – that get in the way of working at height.
New to the Hird access platform hire fleet, it will lift two operatives and their equipment to a working height of 17m, or a working outreach of 9.7m, and has many functions designed to make working at height easier and safer.
With its dual-power capability – both electric and diesel – this boom hire option is ideal for either indoor work is required, or outdoor operation, or for switching between the too.
Perfect access platform for confined space work
The Niftylift HR17N has been designed from top to bottom to be ideal for operating in spaces that are restricted, whether that be floor space or at the work point up to 17 metres up in the air.
At only 1.5 metres wide and a stowed height of 2.1 metres, this aerial platform can be moved into place through narrow access points.
Its 180 degree rotating cage and fly-boom are combined with fully-proportional multi-function controls to allow the access platform to be operated with full precision, quickly and safely.
For instance, the 180 degree cage rotation means it can be moved into position and then allow access to a wide arc of work points, without having to move the boom.
The HR17N's impressive outreach is combined with zero tail-swing, again ensuring this boom lift is perfect for operating in confined spaces, such as warehouses and factories.
Efficient and flexible powered access at a touch of a button
Niftylift's highly efficient battery and electric drive system means it can work for long periods without needing recharging, providing fume-free powered access capability.
In diesel mode, it can work efficiently, powered by the latest low-emissions diesel engine in outdoor environments.
This makes the HR17N an excellent hire choice for working on a wide range of tasks, such as building maintenance, lighting maintenance and construction.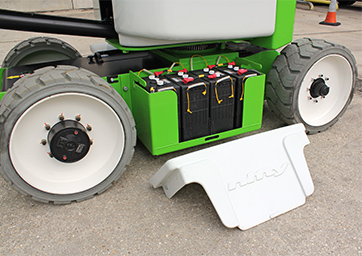 Thanks to the self-propelled boom lift's hybrid power system, the optimum power system can be selected, maximising operational effectiveness, reducing running costs, and delivering sustainability benefits for our hire clients.
The boom lift that puts safety first
The HR17N also incorporates two key health and safety innovations that will give powered access hire users additional assurance when taking delivery of this boom lift.
Niftylift's Tough Cage system provides operators with enhanced protection. It ismade from specially-toughened composite material, and engineered to absorb the energy of unexpected impacts.
This safety system is combined with Niftylift's SiOPS®. This award-winning safety system eliminates sustained involuntary operation by halting the machine's movement if the operator is pushed against the control console.
In this way, the boom lift provides additional protection in the event that the operator's cage comes into collision with another object.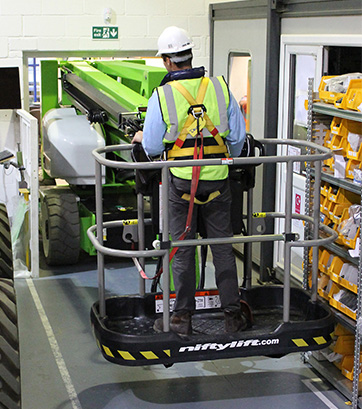 Talk to us about boom hire operations
Investment in the Niftylift HR17N bi-energy boom lift demonstrates Hird is determined to provide powered access hire customers with the latest access equipment – delivering excellent operational results.
Our extensive fleet of powered access machines is available nationally via our three regional operating hubs.
We can also provide a full package of powered access and lifting solutions, thanks to our mini crane hire and glass lifting hire services.
Call us today about Niftylift HR17N boom lift hire options.
Email: [email protected]