Uh-huh, we hear you say. Okay, we've featured some hefty and complicated kit in our PoTM series.
Like chunky Valla mini cranes, smart Maeda spider cranes and powerful glass vacuum lifts that can carry half a house. Well, 3.5 tonnes.
Now, we're showcasing an electric hoist? We agree, it's not going to tear up any trees. Well, it can, if they are small ones.
Electric hoist benefits
But what is so great about the Minifor TR50 electric hoist?
The first thing we would say is, that Hird seeks to solve as many of our customers' lifting challenges as possible.
And the Minifor TR50 is certainly a popular piece of kit in our lifting equipment hire portfolio.
Secondly, it might not be complicated – that is one of its attributes – but it does an impressive and vital job.
So, the Minifor TR50 electric hoist. What can we say?
First, that it has a maximum lifting weight of 500kg.
That is a lot of weight. So, when it comes to getting materials to height quickly and in large quantities, it does the job.
Productivity lift
More capacity means more materials in fewer lifts. There are productivty gains from upping the ante on the electric hoist front.
Secondly, it is very robust, compact and relatively light, at 33kg, for such a powerful electric hoist.
That makes it easy to carry and handle, quick to set up and reliable to use.
The Minifor TR50 is not a market leader for nothing.
The electric hoist operates from 110v mains electricity.
It is easy to control using a pendant control with three buttons, up, down and emergency stop. The brake is built into the electric motor.
We can supply three different lengths of the 6mm wire rope that the electric hoist can be used with – 30m, 60m or 120m.
Lifting accessories
What can a Minifor TR50 electric hoist be used for?
Our main customers work in the construction industry. For example, an electric hoist takes the manual handling risks out of getting building materials or equipment to upper floors.
The Minifor TR50 can also be combined with other accessories available from Hird, like glass vacuum lifters for glass installation, stone vacuum lifters and block grabs.
Our customers also hire electric hoists with other material handling equipment and accessories, such as lightweight track, girder trolleys and slings to move equipment and materials around sites.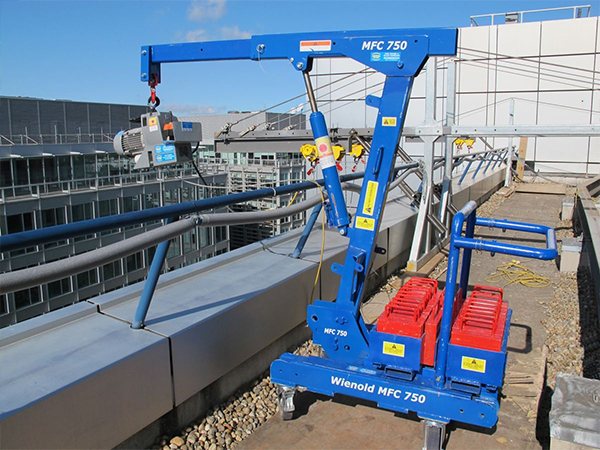 The Minifor TR50 can also be combined with one of our counterbalance floor cranes, for example the MFC750, for negative lifting duties up the side of buildings.
Bigger electric hoist
If the 0.5t Minifor TR50 does not have enough grunt, Hird supplies the Lodestar electric chain hoist, with lifting capacities from 500kg to 2,000kg.
For more information about Minifor TR50 electric hoist hire – and any other lifting equipment and accessories you need – call Hird today.
Email: [email protected]