How fast is a Genie GS-4047 electric scissor lift? We can tell you – 11.75m per 70 seconds. That quick. And that is why the access platform is our Product of the Month for June.
Seventy seconds is the length of time it takes for the Genie GS-4047 electric scissor lift to reach full height. That is 11.75m, of course.
By comparison (warning, gratuitous reference to F1 racing coming up as the season is due to start), Lewis Hamilton set the current F1 race lap record for the Silverstone track at 1 min 27.369 seconds in 2019.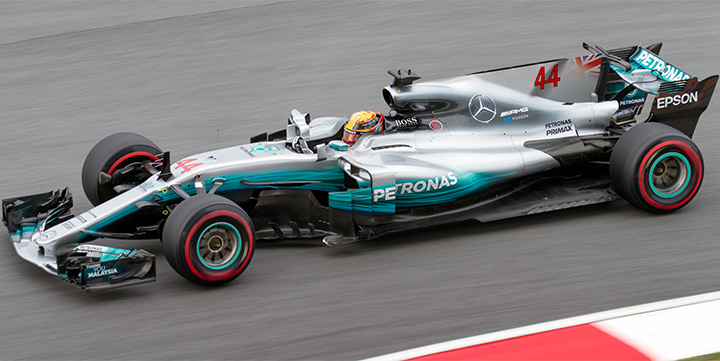 That is also quick. In fact, at 11.7m / 70 secs, it would take 510 hours (or 21 and a bit days) to get round the 5.141km Silverstone circuit.
But that misses the point about what the Genie GS-4047 electric scissor lift can achieve when working at height. Don't worry, we never thought you would make such a basic error.
The slab lift is ideal for many indoor tasked that need powered access support. Which is why the Genie GS-4047 is one of the most popular platforms in Hird's electric scissor lift hire fleet.
Like-for-like (with an F1 car), the scissor lift can cover the ground at a respectable 3.1km/hr. That means the GS-4047 could flash around Silverstone in 1hr 39mins, just about enough time to cross the finish line alongside Lewis Hamilton as he wins the race.
It is its working height of 13.7m that gives the scissor lift the edge.
An F1 car, on the other hand, must be no higher than 950mm high. Add Lewis Hamilton to that height if he is standing on the car in the pit lane saluting the crowd (about another 950mm – if stretching), and the maximum working height of an F1 car can be no more than 2m. Not much good to anyone in a warehouse or shopping centre.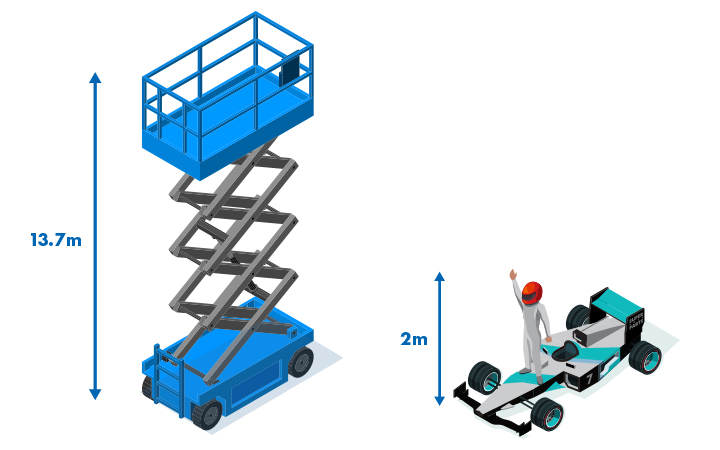 While the F1 car has a steering wheel with 50,000 control buttons on it, the GS-4047 has Genie's SmartLink control system. This gives operators the choice of two lift speeds to match the work environment and application. The joystick is used for drive and steer only, making it simple to use.
The Genie GS-4047 weighs in at 3,221kg, which is fine for an electric scissor lift, but a little restrictive for an F1 car. All the rules say is that Hamilton's Mercedes must weigh no less than 702kg. Which is less than a quarter of a Genie GS-4047.
On platform space and capacity, the scissor lift wins hands down. It is 2.26m long, with the extension 3.18m, and 1.15m wide. That gives room for two to work in some comfort and for the platform to be driven through a set of double doors. It also has a zero inside turning radius, a MEWP equivalent of an F1 doughnut.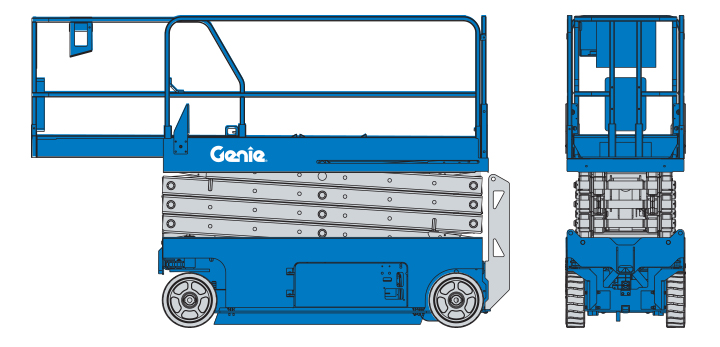 An F1 car, by comparison, is the sporting equivalent of getting into a sardine can. Most F1 drivers are bred to be no larger than garden gnomes and the squished nature of an F1 cockpit still barely allows then to raise an eyebrow.
In terms of sustainability, the Genie GS-4047 scissor lift is also the entire Hangar Straight ahead. As an electric scissor lift, it creates zero emissions while working. It is also an excellent low-noise option, generating up to 70 decibels, equivalent of a slightly raised voice during a conversation.
Image courtesy: Tom McKay
The F1 car fares less well. Okay, they are very good at reclaiming energy from brakes, which is then stored in a flywheel to be released later by the driver, but it still gulps up to 110kg of fuel per race.
And it chucks out 130 decibels, equivalent to a thunderclap, a chainsaw and the expletive uttered by a sensible human being when Dominic Cummings said he was testing his eyesight.
That does not bode well for the F1 racing car when a customer needs to carry out a range of working at height tasks, such as construction fitout, façade installation, building maintenance, decorating, or ducting installation.
Or, when it comes to F1, putting up all those giant adverts for products only 0.01% of anyone can afford.
It does, however, make the Genie GS-4047 scissor lift perfect for all the above. And a whole lot more tasks. Which is one good reason why Hird is a scissor lift hire specialist and does not have a fleet of F1 cars. Sorry.
If you would prefer to see F1 cars doing their thing, the season finally starts with the Austrian Grand Prix on July 5. Then there are back-to-back races at Silverstone on August 2 and 9. If you attend earlier in both weeks, you may even see a scissor lift or two.
For more information about the Genie 4047 scissor lift, available for hire nationally via one of or regional hubs, call Hird today. We also have a wide range of other electric and diesel scissor lifts to select from – and can provide scissor lift operator training if it is needed.
Now, where did we put that bottle of Champagne?
Email: [email protected]