Hird is a machinery removal and installation specialist. Our machine lifting and moving teams pride themselves on their high levels of safety and efficiency.
Hird can carry out the movement of single items through to large turn key CDM managed projects on a nationwide basis.
We have many satisfied customers from the Petro chemical, Aerospace and Food Industries.
Our large fleet of electric cranes are ideal for working inside factories, be it in food areas or high risk conditions, providing a healthy working environment with zero emissions and noise.
Hird provides trained personnel to ensure that its machine moving services comply with BS7121 Safe Use of Cranes and PUWER, LOLER regulations within the contract price.
With depots covering the South, the Midlands and the North, We supply our clients with high quality, modern equipment and expert teams specialising in machine moving.
Contact our experienced team today on 01482 227333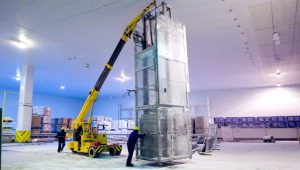 View Contract Lifting View Crane Hire
View examples of our Contract Lifting & Machine Moving expertise