Hird will be showcasing the major advantages of 3B6 load monitoring systems at Vertikal Days on Wednesday 14th and Thursday 15th of May.
3B6 load systems are installed by many of the world's leading mini crane and materials handling machine manufacturers, including Valla pick and carry mini cranes, CVS Ferrari dock handlers, Terex and Manitou.
They can also be retrofitted to a wide range of machines to significantly improve safety and operational analysis, leading to enhanced productivity. These include:
Mobile cranes
Excavators
Forklifts
Reach stackers
Telescopic handlers
Pick and carry cranes
Dump trucks
Drilling and pilling machines
Wheel loaders
Lattice boom cranes
Rail road loaders
Knuckle boom cranes
Hird is the UK and Ireland distributor for 3B6 which produces a range of load monitoring devices, focusing primarily on cranes, including mini cranes, lifting equipment and plant machinery. 3B6 load systems also include digging systems for load shovels and excavators.
Carl Cooper, Hird's mini crane sales manager, said: "What sets 3B6 apart from many other suppliers of load monitoring devices is that it offers full systems control and management with its CAN BUS systems.
"For example, a mini crane operator has a powerful safety aid to help prevent accidents. But the company also has access to powerful data about how the mini crane is being operated, which can help improve productivity and security.
The manufacturer has an on-board diagnostic and control system that can monitor the machine, including engine management, enabling remote transfer of data between the equipment and the manufacturer.
"This allows the manufacturer to inform the machine's owner about its condition, including service requirements or what repairs might be required.
"3B6 load monitoring systems help ensure the machine, its loads and the surrounding worksite are not damaged through overloading or mis-use, reducing risks, which impacts positively on other costs, such as insurance.
"Many Tier 1 contractors also now require their suppliers to use machines with safety systems, like 3B6 load monitors, installed. So it is an important element of improving the quality of service and winning important contracts.
"We would welcome a visit to our stand in the Vertikal Days market place from any machine operator or supplier who wants to find out more about 3B6.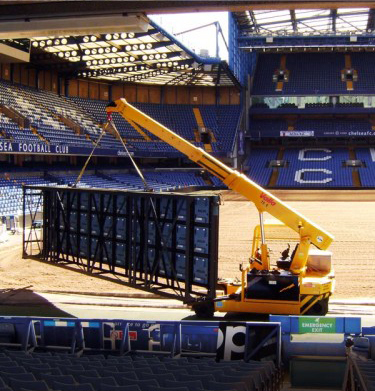 Hid provides a full after-sales parts and support service for 3B6, using factory-trained mobile service engineers, plus a calibration and installation service across the UK, from our three depots, covering northern England and Scotland, central England and Wales, and southern England.
Vertikal Days is taking place at Haydock Park, Merseyside, on May 14 and 15. Hird has a number of VIP tickets to the event to give away. The tickets entitle holders to free entry, a hot meal and refreshments, plus a complimentary copy of the latest edition of Cranes and Access.
Hird will also be showcasing its wide range of pick and carry cranes, glass handling equipment, including Winlet glazing robots, and powered access machines, including cherry pickers, aerial platforms and personnel masts.
Hird is the UK and Ireland distributor for Valla mini cranes, which is now owned by Manitex International, along with CVS Ferrari.
For more information about 3B6 load monitoring technology, and to claim your VIP Vertikal Days ticket, contact Carl Cooper on +44 (0) 7585 716 825.
Hird provides mini cranes, access platforms and glass handling equipment, including glass vacuum lifters, for hire and for sale via a nationwide service delivered through three regional depots. Call us today for more information:
Northern – 01482 227333
Central – 01302 341659
Southern – 0203 174 0658