A machinery moving team from Hird Group has carried out a tandem lift to install a new 72-tonne cooking vessel at a food processing plant.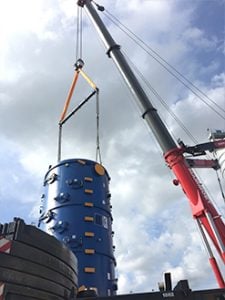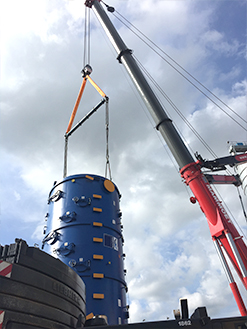 The contract lifting project has been completed for Cargill, at its site in Hull, East Yorkshire.
A new rape seed cooking vessel was lifted into place, and two redundant 26-tonne cooking vessels were lifted out.
Mick Bradshaw, Cranes and Machinery Moving Manager, for Hird, said: "This lift project presented some challenges, both in terms of planning and operationally.
"Our ability to operate flexibly and safely, within the framework of a carefully thought through lift plan, made sure the lift was a success."
The lift was carried out in two phases, using three mobile cranes – a 750-tonne, a 500-tonne, and a 200-tonne.
A full case study about the tandem lift is available here.
For more information about machinery moving, factory removals, and contracting lifting from Hird, contact us today. Telephone: 01482 227333. Email: [email protected].