Challenging new building designs involving large glass panels are transforming our urban landscapes.
They are also leading to significant innovations in the design and capability of glass handling equipment, says Phil Hird, Managing Director of leading mini crane and glass handling equipment supplier Hird.
The company has launched a new glazing robot which one major glass installer has hailed as the biggest advance in glass handling in the last 10 years.
The machine, made by Danish firm Winlet, is designed to allow construction companies and façade installers to keep up with the latest developments in materials technology which are making more sophisticated glass buildings possible.
The Winlet glazing robot will be on display on the Hird Stand (B20) at the Executive Hire Show at the Ricoh Arena in Coventry on Wednesday 11 and Thursday 12 February.
Phil Hird said: "Architects can only realise their designs if the buildings can be constructed in an efficient and cost-effective way. Our aim is to supply glass installation equipment that allows our clients to keep up with what is possible."
Hird is the UK and Ireland authorised dealer of the Winlet glazing robot, which can lift, carry, manipulate and place glass sheets or other non-porous panels up to 600kg, even overhead.
It is designed to be compact enough to operate in confined spaces and be transported up the side of skyscrapers in works lifts – then operate in relays, installing glazing floor-by-floor up the building.
Hird Director John Wilding, who manages the company's southern depot which provides glass handling equipment for many of the largest and most prestigious developments in London, said the Winlet has impressed those who have used it.
He added: "Glazing robots are designed to handle glass more safely and more quickly. With its fully-automated positioning, it can be controlled at a touch of a button. It is extremely smooth, precise and user friendly, dramatically reducing manual handling for glass installation."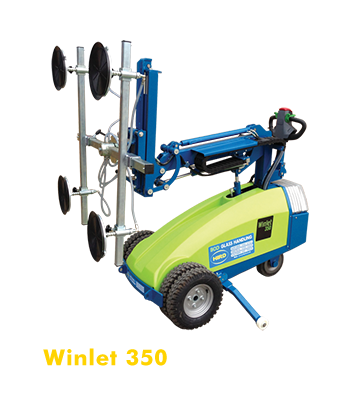 The Winlet's additional capability means it has increased productivity by up to 50 per cent on a range of different installation projects, be speeding up handling, reducing the risk of product damage, and reducing the number of operatives needed.
John Wilding added: "One of our clients, an international glass installer, is so impressed they say it's the biggest step forward for them in a decade.
"Machines like the Winlet are essential to pushing forward building design and successful management of building contracts, because they save costs and speed up production, while allowing architects and developers realise the ever more complex structures they want to create."
The electric battery powered Winlet glazing robot is one powerful range of machines supplied by Hird, which has its headquarters in Hull, East Yorkshire.
The company is a UK leader in mini cranes, for hire or sale. It is the UK distributor for Valla mini cranes, and has a spider crane hire service. Both types of crane are well suited to construction tasks, including steel frame erection, plus glazing and façade installation.
It is also a major UK supplier of the glass vacuum lifters, which are used as attachments to the mini cranes to hold the glass, whether it is flat or curved, while it is manipulated.
Phil Hird said: "As the economy continues to recover, and technology develops, we can see further more challenging building projects using glass coming on stream. Glazing robots like the Winlet will become as common a site on building sites as cherry pickers are now."