The Hird team was kept busy at the Vertikal Days cranes and access show as visitors showed interest in the wide range of lifting equipment and machines on display.
The event at Peterborough Showground proved highly popular as suppliers and buyers got together after the COVID-19 pandemic once again.
Hird Sales and Aftersales Manager Carl Cooper said: "We were busy across both days of the event. There was a lot of interest in the equipment we had on display and across our whole portfolio.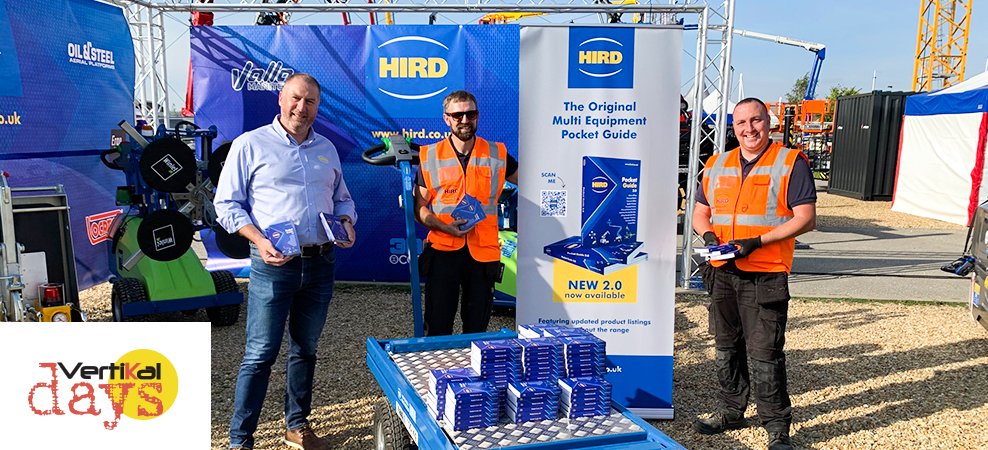 "Lifting with minimal manual handling is more of a priority than ever before. The pandemic and other pressures on operations have meant companies are looking for ways to safely complete the same amount of work with fewer people.
"Safety is the prime concern, but end-users also want to maximise productivity at a time when there are labour shortages across key sectors, like manufacturing and construction, and we have the lifting equipment that provides smart solutions."
Winlet ErgoMover
It was one reason why there was a lot of interest in Hird's Winlet ErgoMover electric material trolleys, which can carry a wide range of loads, including packs of plasterboard, brick packs, timber, plastic sheeting, and all other palletised materials.
Winlet glazing robots
Hird was also pleased to be able to show off its new Righetti cladding vacuum lifters, with a Righetti CL1-6 lifter sold off the stand, and the CL-W wall cladding vacuum lifter. Hird has been appointed as the UK distributor for Righetti equipment.
The Righetti CL1-6 vacuum lifter is designed specifically to lift cladding panels and ribbed roofing sandwich panels. It has a safe working load of 400kg, with four or six vacuum pads that can be configured to have a lifting footprint up to 6.5 metres long.
Valla mini cranes
Oil&Steel
Hird was also able to talk about products from two other partners.
Oil&Steel is a leading manufacturer of truck mounted platforms and spider platforms. A lot of visitors stopped to look at the Oil&Steel Snake 2010 H truck-mounted platform on the Hird stand.
Carl Cooper said: "It was so good to get out and see clients and industry colleagues we haven't seen for nearly two years, in some cases, because of the pandemic. We hope this is a sign of healthy demand for lifting solutions that deliver real safety and productivity advantages."
Find out more about cranes, lifting equipment, and access platforms available from Hird. Call 01482 227333. Email: [email protected].