Production of Valla mini cranes has been speeded up, making them more than ever the number one choice for pick and carry lifting solutions in the UK.
Manitex International, which took over the mini crane manufacturer last December, has been using its supply chain expertise to accelerate production, to keep up with demand.
Hird Mini Crane Sales and Aftersales Manager Carl Cooper said:
"Since Manitex International acquired Valla Industrial Cranes, it has improved the company's supply chain, reducing the average build time for each crane significantly.
"This allows clients to plan capital expenditure and business growth more effectively, since investment in this sort of equipment is often linked with key business development plans.
"In turn, Manitex International's involvement has boosted confidence in Valla mini cranes, which is helping us promote their excellent capabilities in the UK market."
Hird is the authorised UK distributor for Valla mini cranes in the UK and Ireland.
Carl Cooper added:
"We are seeing increased interest in larger mini cranes, especially in the 12 tonnes plus range, and are confident this will lead to increased orders to the end of 2014 and into 2015.
"In key industrial sectors, companies are looking to Valla mini cranes to provide the single handling lifting solutions. Some companies may have overhead lifting systems, augmenting these with a range of other lifting methods, even using fork lift trucks or tele handlers.
"This is both inefficient and risk, both in terms of health and safety and of personnel and safe handling of high-value loads. We are able to demonstrate that Valla mini cranes are the clear and sensible alternative.
"These pick and carry cranes can operate outside an overhead crane footprint. As the economy continues to recover, manufacturing companies look to invest in new lifting solutions that help them drive growth.
"They are seeing that Valla pick and carry mini cranes are often the most flexible, most cost-effective and most productive option."
Valla mini cranes are designed and built to be robust, giving excellent service over many years. DC electric versions eliminate fumes and reduce noise in the workplace, with all the attributes and lifting power of a mobile crane.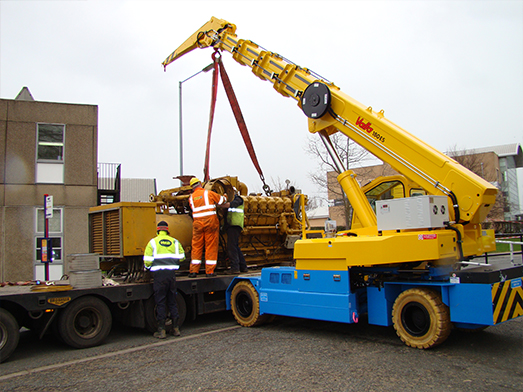 As truly compact cranes, mini cranes like the new Valla 120 EVO can operate in clean, low-level environments, where space is at a premium. With a full 3B6 load monitoring system as a standard feature, it is also very safe to use, when operated by a qualified mini crane operator.
Hird is working closely with Manitex Valla on new bespoke mini cranes designed to meet the precise needs of clients.
One special edition model, already announced, is the Valla 180ES mini crane, with its long 16 metre boom and hydraulic fly jib, with 40 degree sweep, capable of pick and carry of 3 tonnes at full reach and radius.
For more information about Valla mini cranes, their capabilities and the support Hird can provide to supply and design, if necessary, the mini crane that is right for your requirement, contact Carl Cooper on 01482 227333.
Hird supplies mini cranes for hire or for sale across the UK through its network of operating hubs. We also provide a contract lifting service and mini crane operator training at our bespoke training centres.
Northern – 01482 227333
Central – 01302 341659
Southern – 0203 174 0658
Email: [email protected]