Hird is putting Manitex Valla's latest pick and carry crane on display for the first time in the UK at Vertikal Days.

The Valla 70R electric industrial crane is fully wireless remote-controlled and has been designed to set new standards of flexible lifting in confined space.
It will be displayed alongside the Winlet 1000 TRX tracked glazing robot on the Hird stand (102) at the cranes and powered access show at Donnington Park, Derbyshire, on 15 and 16 May.
Hird is the authorised distributor in the UK and Ireland for both brands.
Impressive performance
Carl Cooper, Hird Sales and Aftersales Manager, says: "The Valla 70R mini crane was launched at Bauma in Munich in April 2019, so this is the first time it is going to be seen in the UK.
"The pick and carry crane has already drawn admiring comments for its futuristic design, but it is what this crane can do that is really impressive.
"As a fully wireless remote-controlled crane, for both drive and lifting functions, it doesn't need a cab, so is narrower than the previous generation machines.
"Yet it has a maximum safe working load of seven tonnes, which increases to 7.7 tonnes with a front stabiliser deployed."
Flexibility and productivity
The pick and carry crane is designed to provide lifting operations across a wider range of load weights – so is up to three cranes in one, delivering excellent flexibility and productivity.
Carl Cooper says: "The Valla 70R is a response to market demand for mini cranes that can do more and do it more sustainably, with zero emissions and low-noise operation.
"In many industrial settings, where manufacturers are under pressure to make better use of space and keep production going while machinery is being maintained, cranes like the Valla 70R are ready to come into their own."
The pick and carry crane now has a longer boom, complete with a multi-position head that can take a range of hydraulic attachments, including a fly jib, forklift attachments, materials grab or a glazing manipulator.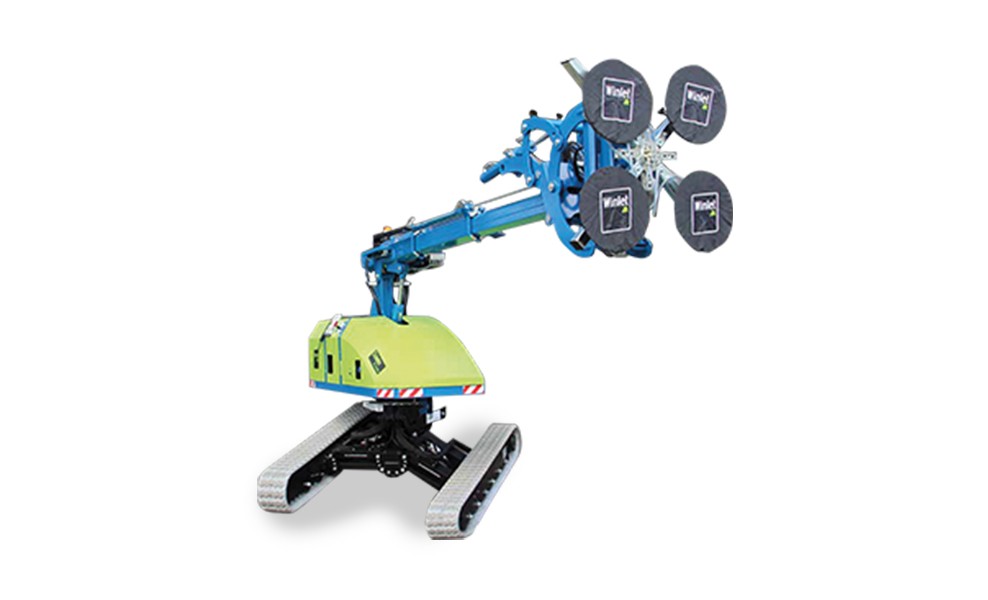 Innovative dynamic levelling
Equally innovative, the Winlet 1000 TRX is the latest model in a range of materials lifting robots that are setting new standards for safety and productivity at worksites around the world.
Its automatic dynamic levelling system allows the glazing robot to both travel and lift on uneven ground, while the low load bearing tracks support operations on delicate flooring or unstable ground.
A key capability is 100-degree slewing of the load, allowing the glazing robot to operate more productively and safely with out having to relocate.
The glazing robot can also lift itself to gain 300mm of extra lifting height and tilt forward to give 400mm of extra reach.
Delivering unique benefits
These functions deliver a maximum lifting height of 4.5m, maximum overhead installation of 5.1m and maximum reach of 2.6m.
Carl Cooper says: "The Winlet 1000 TRX glazing robot really is a very special, innovative machine, which we're looking forward to introducing to both our hire and sales customers.
"For both deployment on external construction sites and internally for glass and curtail walling installation, and building maintenance, it delivers unique benefits."
The Hird team will also be showcasing other lifting machines and technologies at Vertikal Days and would welcome visitors to stand 102.
To arrange a meeting at your convenience, email Carl Cooper on [email protected] Or call 01482 227333.