Digital remote control of a Maeda spider crane hired from Hird helped make sure stonework on a Grade II Listed house could be removed safely.
A building contractor carrying out a major refurbishment would have selected a mobile crane for the work at the property near Mansfield in Nottinghamshire.
However, the only access to the 116-year-old property, now a residential care home, was across a weak bridge – so a more lightweight and agile option was needed.
Hird's Maeda MC815 spider crane could be taken off the delivery lorry at the entrance to the property and then tracked the 150 metres to the worksite across the bridge.
Spider crane remote control
Once in place, the benefit of selecting a spider crane over a mobile crane became even more apparent with the use of its Bluetooth digital remote control.
Hird Managing Director Phil Hird said: "Our operator could set up the mini crane then get right up close and personal to the cornice stones that needed to be lifted and could control the lift from there.
"He had a perfect view of the load and the immediate surrounding area, adding to the safety and productivity of the whole project. Our client was definitely impressed by what was achieved."
The Maeda MC815 spider crane has a maximum safe working load of 8 tonnes and a maximum working radius of 18.8 metres, at which distance it can lift 440kg.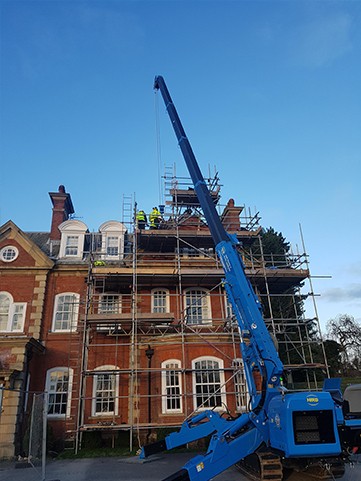 Spider crane benefits proven
This lift involved removing 10 sandstone cornice stones, the heaviest being 800kg, so they could be taken away for cleaning and refurbishment or be replaced.
Phil Hird said: "The success of this project demonstrates key benefits of the spider crane over mobile cranes which can sometimes be overlooked.
"Spider cranes take up a smaller footprint, can usually be set up within the worksite, not on the roadside under traffic management, as is often the case with mobile cranes, and are often more cost effective.
"They are also quick and easy to set up and can reach lift points at multiple locations through 360 degrees. However, if a spider crane does need to be relocated, that can be done quickly and safely.
"Spider cranes are idea for working on historical building sites because they can operate across low load bearing floors, both indoors and outdoors, and their precision reduces the risk of accidental structural damage."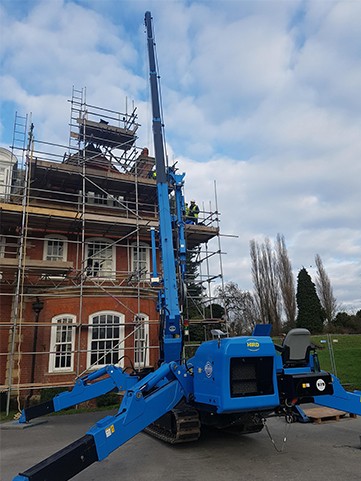 Maeda mini crane multi-tasking
The flexibility and power of Maeda spider cranes means that when contractors have hired them for one job, they quickly realise the machines can also be used for many other lifting tasks on their site, increasing productivity, cost-effectiveness and sustainability still further.
Hird can supply spider cranes across the lifting range, including the Maeda MC174 (SWL 1.72t), Maeda MC285 CRM-2 (SWL 2.82t), Maeda MC305 (SWL 2.98t) and Maeda MC815 (SWL 8t).
For more information about spider crane hire, plus associated lifting services, including mini crane operator training and lifting accessory purchase or hire, call Hird today.
Email: [email protected]