Reach for the skies – with the new Winlet 350 TH
Flexibility and problem solving is everything on modern construction sites.
Which is why glass lifting hire specialist Hird is now able to take glass installation to a whole new level with the new Winlet 350 TH glazing robot.
Hird is the UK and Ireland authorised distributor for Winlet glazing robots, which are rapidly transforming opinion of what is possible in the glass installation industry, with their lightweight design, innovative safety features, and large lifting capacity.
Now a new model is available, the Winlet 350 TH, which is a glazing robot that wants to go up in the world, because it is designed to be attached to a telehandler or forklift truck.
This ability means the glazing robot can be used to lift glass to be installed at greater height, and in hard-to-reach places, where standard glazing robots just cannot go.
Same great design – with a head for heights
Winlet glazing robots combine award-winning design, making them easy to use and maintain, with exception glass lifting capabilities.
For example, the standard Winlet 350 can lift and carry glass panels, or other flat non-porous sheets, weighing up to 350kg, thanks to its four powerful vacuum lifter cups.
The panels can then be placed, even overhead, with absolutely precision and safety, making glass installation faster and more productive.
The Winlet 350 TH combines this industry-leading performance with the ability to install glass and other sheets, including wood, plastic, fibreboard, plasterboard and metal, at greater height.
Instead of being mounted on its own self-propelled base, it is designed to be fixed securely to the forks of a telehandler or forklift truck, both machines commonly used on construction sites and in commercial workplaces.

These machines can them be used to lift the glazing robots to any height within their safe range, to install glazing panels or other sheets.
The Winlet glazing robot operator uses a hand-held wireless controller to manipulate the vacuum lifter arm in the usual way, from any position that gives them the best unobstructed view, and allows the task to be completed safely.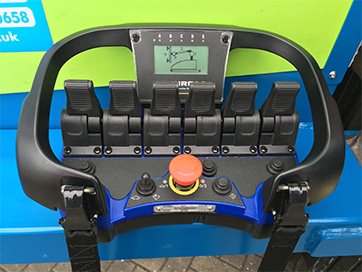 Taking Winlet to new places – for new glass lifting challenges
As Hird Director John Wilding points out, by attaching a Winlet 350 TH glazing robot to a telehandler, glass lifting and installation clients can access many more areas of a construction site for the first time.
He said: "The all-terrain capabilities of telehandlers instantly gives glass installers access to a greater number of work areas, where ground conditions are not flat and stable, something required for safe operation of a standard vacuum lifting robot.
"This means the benefits of using glazing robots, which include improved safety, greater productivity and increased control over materials, can be obtained at much greater height and in many more places on the construction site.
"Winlet glazing robots are already a bit hit with our clients. I can only see the Winlet 350 TH also being very popular, especially with our construction clients, as they see its ability to speed-up glass installation, while offering best-in-class safety standards."
Want to go up in the world with a Winlet? Hird glass lifting equipment is available via our glass lifting hire service across the UK. Call today to talk to a friendly expert member of our glass lifting team.

Email: [email protected]