At a time when everything appears to be getting bigger, our product of the month for March is a shining example of how being smaller can deliver telling advantages.
The Valla 36R electric pick and carry crane is, kilo for kilo, one of the most compact and capable cranes in its class – and also delivers fume-free, low carbon lifting.
Like other mini cranes in our new Valla V range, is it both turning heads and attracting a huge amount of praise from customers.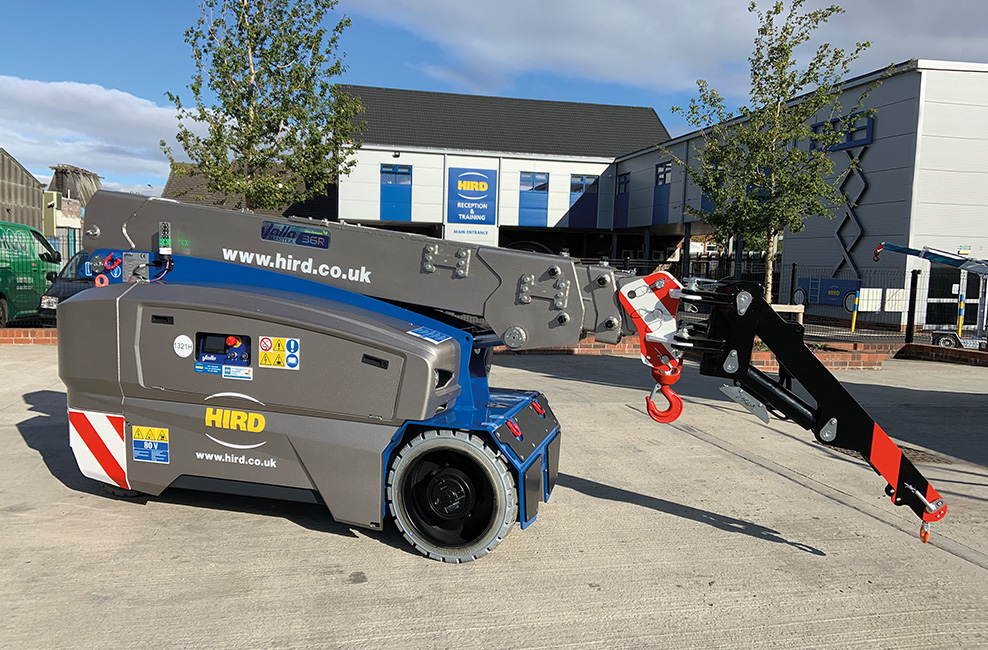 More lifting power
The Valla V36R mini crane combines great lifting power with cutting edge technology that makes it easier than ever for our customers to make best use of Valla lifting capabilities.
Let's take a look at basic lifting capability to start with.
The Valla V36R pick and carry crane has a safe working load of 3.6t, a maximum working height of 7.1m (SWL 800kg) and a maximum working radius of 4.8m (SWL 500kg).
The comparable Valla 35E mini crane has a SWL of 3.5t, a max working height of 6.5m (SWL 500kg) and max working radius of 4.8m (SWL 400kg).
New standard for compact cranes
So, the Valla V36R already has the edge on lifting performance. When compactness is added to the mix, Valla's latest model looks even more impressive.
The Valla V36R is just 2465mm long and a super-slinky (for a mini crane) 900mm wide. In comparison, the Valla 35E is 35mm longer and a quite significant 480mm wider.
What this demonstrates is that the Valla V36R sets new standards of compactness (another statistic: it is just 1560mm high when stowed, compared with 1940mm for the Valla 35E).
So it is an excellent option for working in very confined spaces, whether that involves moving the crane into a safe lifting position, lifting around obstacles, or where overhead space is limited.
Flexible lifting solutions
Added to this performance is functionality that extends its capability still further in confined spaces or otherwise.
This includes an optional variable position fly jib attachment (hydraulic or manual) with a maximum SWL of 1t.
The fly jib extends the maximum working height to 8.5m (SWL 450kg) and the maximum radius to 6m (SWL 250kg).
This extends up and over reach and overcomes problems caused by lack of space above the hook.
The Valla V36R pick and carry crane can also be fitted with a winch and hook block or with lifting forks.
So, the optimum lifting method can be selected in a wide range of scenarios, enhancing safety and productivity.
Smart lifting technology
The pick and carry crane's compactness is made possible by the fact that is it is operated by wireless remote control.
This allows the operator to be positioned right at the hook, if necessary, to view and carry out the lift.
The control unit has a high resolution colour screen for easy reading of lifting data and is used to manage all the crane's movement and lifting functions.
The advanced battery system has also played a part in allowing the crane to be shrunk to its smallest size with no compromise on power and long duty cycles.
Like other Valla pick and carry cranes, the Valla V36R has an articulating rear axle, to provide excellent manoeuvrability in tight spaces, and non-marking tyres to support operation in clean, indoor environments.
As a 100% electric pick and carry crane, it also represents the most sustainable solution for lifting in industrial environments, with low-noise, low carbon footprint and zero emissions.
Many different uses
The Valla V36R pick and carry crane is ideal for use as a compact industrial crane for machinery maintenance, machine moving, equipment lift out and installation and materials moving in factories.
The mini crane can also be used for glass installation, steel erection and mechanical and electrical installation on construction sites, as well as artwork installation and facilities maintenance.
As a very compact crane, the Valla V36R really does punch above its size and weight in the lifting world.
As such, it is an excellent choice, for example where urgent maintenance is needed in a factory with least impact on the working environment, for example to maintain continuous production.
Resource specialist Viridor has bought a Valla V80R (right) to support maintenance at its  new plastics recovery facility in Avonmouth. Read why here.
Introducing the Valla V range
The Valla V36R is just one model in a growing range of Valla V cranes. As the UK and Ireland authorised distributor for Manitex Valla, Hird can supply these cranes for sale, in a range of bespoke formats.
For example, if customers want to buy the Valla V36R mini crane, Hird can fulfil an order quickly, usually within three months.
Pick and carry crane training
Hird can also provide a wide range of crane operating courses, including:
A62 crane lifting operations supervisor training.
Find out more
The Valla V36R pick and carry crane is available for hire nationally. See how it will transform your lifting operations – allowing you to lift more, in more challenging spaces, with less pollution and a smaller carbon footprint.
Email: [email protected]