It is our final Product of the Month for 2021. So, by way of an early Christmas gift, we are showcasing two excellent new scissor lifts for hire from Hird, not just one.
They are the all-new Genie GS-1932m scissor lift and the Genie GS-1432m scissor lift, both from the E-Drive range thanks to their AC all-electric drive.
They form part of a new generation of scissor lifts from Genie designed to embrace the growth of electric power for working at height, which could eventually see thermal engines phased out for all mobile elevating working platforms (MEWPs).
Genie is, arguably, at the leading edge of this process. It is developing new ways for rental customers to be able to easily and safely used scissor lifts like the GS-1932m and the GS-1432m both indoors and outdoors.
Central to this approach is the development of Genie's Smart Link Dual Zone controls, which we will explain later in the article.
Genie GS-1932m scissor lift
First, let's take a look at the GS-1932m E-Drive. The scissor lift delivers a maximum working height of 7.55m indoors and 7.18m outdoors.
It has a maximum lifting capacity of 227kg, allowing two operatives to work on a deck that is 1400mm long and 770mm wide, with a 600mm deck extension.
At just 810mm wide, the electric scissor lift can be moved through a single doorway. It also has zero inside turning radius, allowing operatives to make full use of the compact design.
The all electric E Drive system provides smooth and precise power for confident working at height and industry-leading battery runtime for both indoor and outdoor work.
And, of course, as an electric scissor lift, the GS-1932m provides fume-free, very low noise working in all environments.
Our new Genie GS-1432m E-Drive electric scissor lifts have similar performance credentials to the GS-1932m.
It has a little less working height but also less weight which is particularly helpful when working across sensitive floors.
Maximum working height is 6.3m. Lift capacity is 227kg. Again, the scissor lift can be guided through a single doorway.
As mentioned, its gross weight is just 900kg, compared with 1,179kg for the GS-1932m, so it is idea for working across delicate floors, for example tiled floors in office, hospital, and shopping centre atrium areas or across outdoor patio and pedestrian areas.
The GS-1432m scissor lift's stowed height is 1880mm, compared with 1970mm for the GS-1932m. It is a small difference, but one that could be useful in the most constrained spaces.
Like its slightly loftier counterpart, it also has solid non-marking tyres, making it ideal for internal working at height.
Genie Smart Link Dual Zone controls
A significant innovation for both scissor lifts is Genie's Smart Link Dual Control controls.
These allow the scissor lifts to be configured for safe and productive working for both internal or external working at the touch of a button.
This is particularly relevant for the GS-1932m model. That is because, in internal mode, the operator can use the full working height.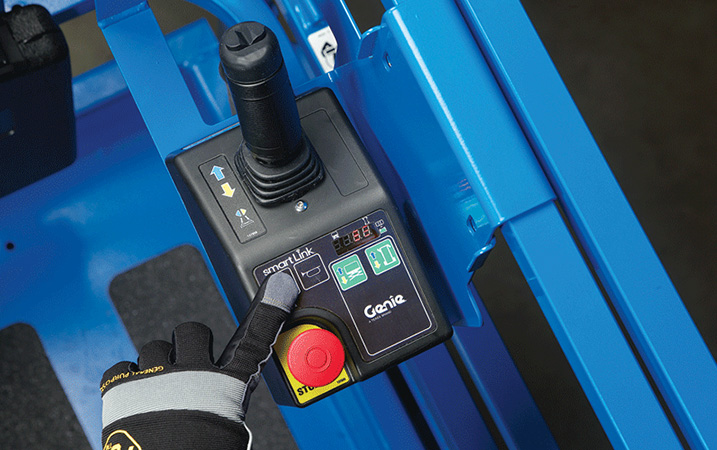 In external mode, working height is restricted to a safe 7.18m, to take account of additional wind-speed risks.
Built-in alarms ensure that the operator cannot move from an indoor to an outdoor zone without lowering the platform to a safe working height.
For the record, the GS-1432m has the same 6.3m maximum working height both indoors and outdoors.
The Smart Link and Dual Zone functionality is designed to enable access rental customers to meet the latest industry standards, while enhancing productivity and performance on jobsites, both indoors and outdoors.
These new advanced compact scissor lifts build on the popularity of the standard GS-1932 electric MEWP in the Hird scissor lift hire fleet.
They provide additional functionality that will become increasingly commonplace across the industry over the coming years.
The MEWPs are being welcomed by our customers who value the sustainability and operational performance gains from using all electric MEWPs, not least the flexibility of inside/outside working.
Working at height tasks these cutting-edge scissor lifts are ideal for includes building maintenance, electrical and mechanical systems installation, ducting installation and maintenance, lighting maintenance, high level cleaning, building inspection, and signage installation.
And let's not forget, given the time of year, festival lights and decoration installation.
Just some industrial and commercial sectors the all-electric scissor lifts work across include retail and shopping centres, property management, manufacturing, warehousing and logistics, and construction.
Genie all-electric scissor lift hire options
Need a high performance small scissor lift that matches unrivalled safety with the highest levels of productivity and flexibility?
Take a look at our Products of the Month for December – the Genie GS-1932m and Genie GS-1432m.
Hird also provides IPAF-accredited scissor lift training at each of our four operational centres across the UK.
Email: [email protected]