Hird's hire fleet of mini cranes, glass lifting equipment and powered access platforms get showcased regularly in our Product of the Month articles.
So this month we decided we should take a step back and give the limelight to the unsung heroes who deliver the thousands of pieces of kit every year.
The Hird Product of the Month for September is the Hird transport fleet. And, most importantly of all, its drivers.
Safe and on time
Hird appreciates 100% that having the best lifting, glass installation and powered access equipment available for hire is important.
But the kit also has to be delivered safely on time and collected just as efficiently – every time – for hire customers to be truly impressed with our service.
That is why Hird has invested so much time, effort and money in maintaining and expanding its transport fleet as the company's equipment hire services has expanded over the last 35+ years.
Hird Director Phil Moss said: "We have always operated our own transport fleet because it is so central to the quality of the service we want to always provide.
"While other plant and equipment hire companies may rely on sub-contracted support for a large percentage of their transport needs, Hird will only turn to external carriers in exceptional circumstances.
"This is because having our own fleet gives us the flexibility to deliver and pick up equipment at the times and locations our customers require every time, including making last minute changes, if necessary."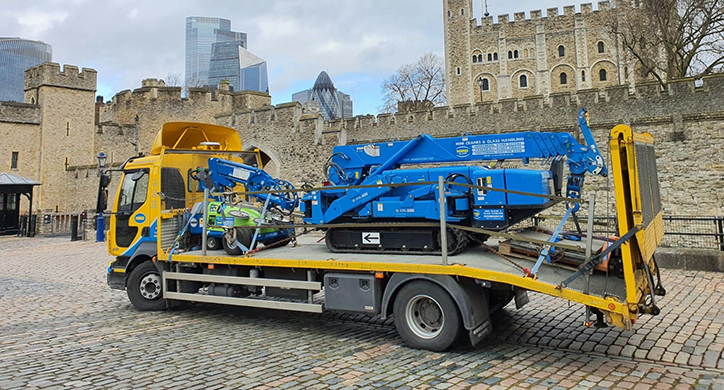 Constant investment
Hird's willingness to constantly invest in its transport fleet was typified by the recent addition of five new delivery trucks to the fleet.
With the company opening a fourth depot, in Halesowen, West Midlands, covering the Midlands and Wales, new trucks were needed.
The new delivery vehicles included two 32-tonne Volvo FM460 8×2 trucks and three 18-tonne Volvo FM280 trucks.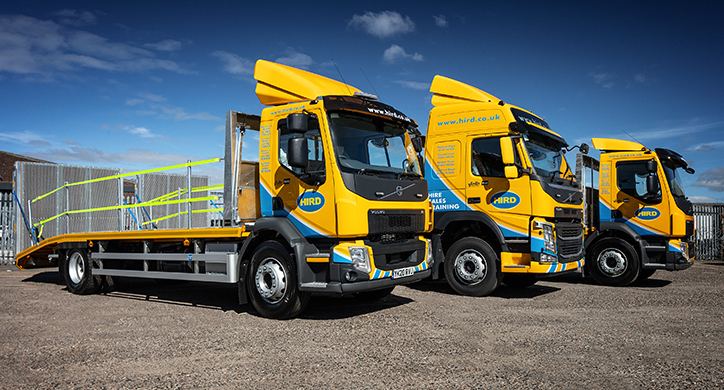 Hird also operates 44-tonne articulated trucks for the largest machines and to support the company's national machinery moving service.
Heading in the other direction, Hird also has a modern van fleet for delivering smaller items, such as compact vacuum lifters, lifting equipment and accessories.
More important than the trucks and vans, though, are the drivers who operate them.
Expert drivers
Phil Moss said: "We have a very skilled and stable team of delivery drivers who are essential to our service and to the smooth running of our customers' operations.
"They take pride in going the extra mile to make sure deliveries and collections are made on time and their experience at operating in every type of location, from construction sites to large factories, is critical.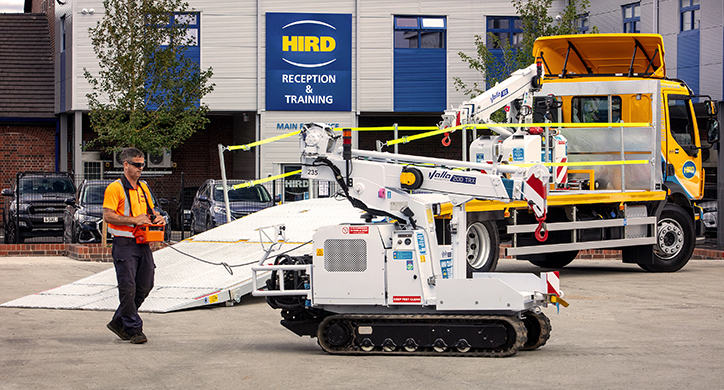 "They are also trained to operate every piece of kit they carry. That means it's loaded on and off-loaded safely and promptly, and they can provide familiarisation training on site, if it's needed."
Supporting the drivers are skilled operational coordinators in every depot who work with clients to make sure all factors that can affect deliveries and collections, including access, scheduling and timing issues, are fully taking into account.
Because Hird is continuously investing in its transport fleet, it's kept well up to date. The company operates trucks with the very latest emission control systems, so they will meet the very latest carbon footprint and pollution minimisation standards.
FORS Gold
The company's transport service is also FORS Gold accredited for the London operational hub and FORS Silver for its three other hubs. This means it recognised at meeting higher standards of safety, sustainability and customer service than most other fleet operators.
Those standards also include cleanliness and tidiness. Hird likes to keep its trucks in tip-top condition, looking bright and clean, reflecting the performance of the equipment and machines it offers for hire.
"Hird provides a total service package," said Phil Moss. The transport fleet is central to that promise.
Whether the drivers are carrying pick and carry cranes, spider cranes, cherry pickers, scissor lifts, glazing robots or glass vacuum lifters, they will be delivered and collected with the same care and professionalism.
Find out more about mini crane, powered access and glass lifting hire from Hird – and the transport fleet that drives our safe, prompt and friendly service.
Email: [email protected]