August's product of the month is the mighty mini crane that is the Valla 180.
This is the largest industrial crane in the Manitex Valla mini crane fleet and is in increasing demand because of its versatility and contribution to lifting safety.
Our mini crane hire and sales customers realise that it is often more productive to deploy a mini crane than install a gantry crane in a factory. Mini cranes are better suited to many lifting projects than other commonly used equipment, such as telehandlers and forklift trucks.
Compact and capable
The Valla 180 mini crane has a maximum safe lifting capacity of 18 tonnes, yet is still a genuine compact crane, with all the benefits of working in confined spaces that such pick and carry cranes deliver.
For example, the Valla 180E, the model available in the Hird mini crane hire fleet, is electric-powered – so is fume-free, delivers quiet running and so is ideal for working inside, for example in large factories, as well as outside.
It is also IP67 rated, which means it has good protection against dust, solid objects and water, and is designed to be very well suited for a wide range of industrial applications, including marine maintenance, machinery moving and factory relocation.
Mini crane – maximum performance
The Valla 180E boom has four hydraulically-extending sections delivering a maximum reach of seven metres. This can be extended with an additional hydraulic fly jib, giving additional up and over reach capability.
The mini crane weighs 19 tonnes. Yet it is just 2.2 metres wide, and has an articulating rear axle, so can be moved with pin-point accuracy into the ideal lifting position in confined spaces.
S is for longer reach
The Valla 180ES is the latest variant of this industry-leading mini crane. It comes with an extended boom – taking its maximum radius to 10m, at which point it can lift 1.5t.
The Valla 180ES has a maximum tip height of 13m. When the hydraulic fly jib is attached, this is increased to 16m.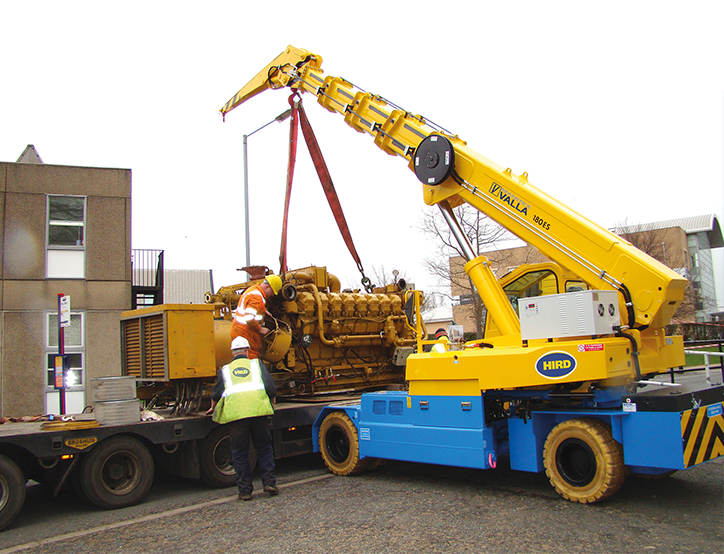 Simplifying lifts increases safety
Pick and carry cranes like the Valla 180E really come into their own when you consider the whole lifting process, in terms of process, productivity and long-term sustainability.

Carl Cooper, Crane Sales and After-sales Manager for Hird, which is the UK and Ireland authorised dealer for Manitex Valla Cranes, said: "Pick and carry cranes streamline the lifting process.
"They require fewer operatives, replace what would otherwise be multiple lift and moving processes, and take up less space than other types of lifting equipment.
"As such, they reduce the amount of manual handling, and reduce the complexity of lifts. So lifting is safer, supported by 3B6 load monitoring systems, more productive and more cost-effective in the long-term."
So, the Valla 180E and ES are the titans of the Hird mini crane hire fleet, but they are designed to make any lifting challenges shrink to manageable proportions.
Hird provides a full mini crane servicing and repair service, and mini crane operator training. Our pick and carry mini cranes are available for hire nationally from our three regional operating centres.

Contact Hird today for expert, friendly lifting support.
Email: [email protected]