Minifor TR50 material hoists are among the most versatile pieces of lifting equipment on the market.
That is why we are delighted to make them our Product of the Month for September.
Like other material hoists, the Minifor TR50 can be used in combination with many other devices to achieve lifting objectives.
Easy to use
They are also easy and inexpensive to use, making them among the most popular devices in our lifting equipment hire range.
The Minifor TR50 material hoist is a 110-volt wire rope hoist with a maximum lifting capacity of 500kg.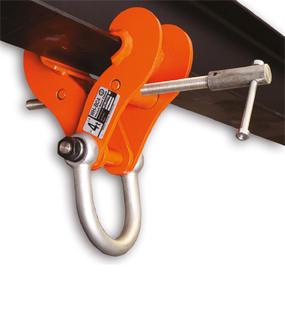 Weighing in at just 31kg it is easy to carry and install – and can be fitted with wire rope lengths of 30 metres, 60 metres or 120metres.
It can be quickly fitted to a building in a number of ways, for example using a girder clamp from the Hird lifting accessories hire range.
The Minifor TR50 material hoist can also be used in conjunction with other lifting equipment.
Examples include the Porta-gantry 500, or one of Hird's range of counterbalance floor cranes, such as the GML800+.
Safe and versatile
The hoist can be secured safety in a fixed position to lift materials or equipment to one location.
Or it can be attached to a lightweight track system, also available for hire from Hird, to move materials around a work site.
This portable materials hoist can quickly be moved from point to point, and set up in a matter of minutes, as lifting requirements change during a working day.
It also comes with a 2.5 metre pendant remote control cable as standard – so the operator can get the best view of the load during the lift.
Longer remote control cable lengths are available if they are needed. Safety is also enhanced with an emergency stop function.
The Minifor TR50 materials hoist can be used to lift stone, steel, bricks, wood and other construction equipment.
Quick installation
Its portability and speed of set up make it ideal for supporting teams of bricklayers working quickly along a building elevation.
Robust and highly reliable, the Minifor TR50 is also ideal for supporting building or machinery maintenance.
Material hoist hire customers also often pare it with one of Hird's range of smaller vacuum lifters to install glass, for example in shop fronts.
Our Minifor TR50 material hoists are indeed among the most adaptable lifting devices in our lifting equipment hire range.
Improving safety
Helping reduce manual handling to a minimum, they enhance the safety of our customers' operational teams. They also reduce the risk of material or structure damage during lifting operations.
Hird also has a range of other material hoist hire options available. We will have what it takes to get your lifting project off the ground.
All our lifting equipment is available across the UK via our three operational centres. Our other services include mini crane hire, spider crane hire, glass lifter hire and powered access platform hire.
Talk to use about our material hoist hire options today.
Email: [email protected]