Our Product of the Month for June – the mighty Maeda MC305-2 crawler spider crane – delivers on a challenge that is increasingly important for our clients.
In today's modern worksite – whether that is a construction site or an industrial one – being able to complete tasks while causing least disruption to other work in the same operational space is vital.
Construction programmes are complex and meticulously planned. Meeting project deadlines is the difference between profit and loss. In industrial settings, such as petro-chemical plants, production systems are continuous.
Confined space working
So, when crane lifting tasks are introduced to the equation, they must fit in, not require major change around them. Other construction tasks must continue. The product tap cannot be turned off.
The Maeda MC305-2 mini spider crane delivers a key solution to that challenge. Maeda mini cranes are designed to offer excellent lifting capability within a confined operating envelope.
This means these compact cranes can operate in spaces where access is difficult and space limited. It also means they can carry out lifting tasks with less risk that other operations close-by will be affected.
Great performance
Central to this ability is the Maeda MC305-2 spider crane's compact design, combined with excellent lifting capability. In fact, it is one reason we describe this mini crane as mighty.
It has a maximum safe working load (SWL) of 2.98 tonnes at a radius of 2.5m.
Yet the spider crane is only 1208 millimetres wide and 1695 millimetres high, when in its stowed configuration. That means it could easily be driven through double internal doors from one room to another in an average home.

The Maeda MC305-2 spider crane has a maximum working radius of 12.16 metres, at which its SWL is 260kg, and a maximum lifting height of 12.52 metres, at which its SWL is 790kg.

The power source can be diesel or electric, so these spider cranes can be operated in external or internal working environments.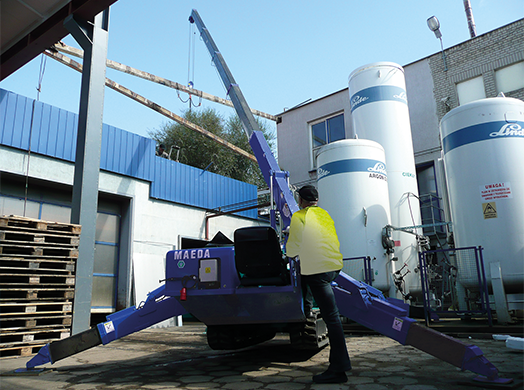 Safety first
The Maeda MC305-2 spider crane is also packed with impressive safety features, including a programmable moment limiter, tilt sensors and alarms, and an outrigger interlock system.
The mini crane can be operated from central controls or remotely, so the crane operator can always be positioned to get the optimum view of the lift. It comes with a four-fall and a two-fall block, a powerful two-speed winch, and an automatic hook stowage system.
Flexible lifting
The Maeda MC305-2 spider crane is a perfect lifting solution in many environments, including construction, glass lifting and installation, facilities and building management, plus factory machinery moving and maintenance.
It is available in the Hird mini crane hire fleet across the UK, from our three regional operating centres. We can provide fully-trained mini crane operators, experienced in all the sectors, under contract lifting arrangements if required.
For more information about the mighty Maeda MC305-2 spider crane, contact us today.
Email: [email protected]