Hird has introduced a "game-changing" Maeda mini crane with an industry-leading ability to lift below the crane.
The Maeda 285 spider crane can be fitted with an auxiliary winch delivering a negative lift duty of 900kg at 100 metres.
The next most capable mini crane on the UK market can achieve a negative lift duty of 800kg at 59.4 metres.
Hird has supplied the Maeda 285 and auxiliary winch combination to support the construction of Dollar Bay, one of London's latest residential skyscrapers.
John Wilding, Hird Director, said: "The Maeda spider crane is positioned on top of the building and can lift loads up to any of its 31 floors.
"If necessary, it can moved and reset in minutes. Without such performance, the standard alternative would be to install a monorail lift and winch system.
"This option is more expensive, requires the system to be fitted directly to the building and is less flexible than using a mini crane.
"This Maeda and auxiliary winch delivers such impressive performance that we believe it's an industry game changer for working on tall buildings."
The Maeda 285 is being used to install window panels on the 109m high Dollar Bay in Canary Wharf, which will have 115 apartments and penthouses.
It could just as easily be used to carry out lifting operations in deep underground shafts.
The spider crane delivers all the other performance benefits of Maeda machines, the most popular spider cranes on the world market.
It has a maximum lifting capacity of 2.82 tonnes, a maximum tip height of 8.7 metres, and is just 750mm wide, so can be moved through standard doorways.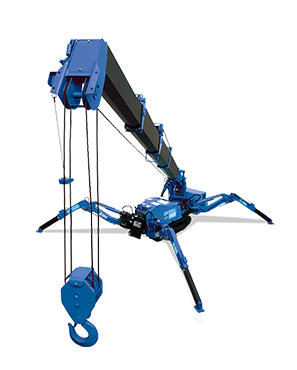 Hird is currently Maeda's biggest customer in the UK as it continues to build an impressive spider crane hire fleet.
John Wilding said: "Our aim is to make available the best lifting equipment on the market, making lifting tasks safer, more cost-effective, and more productive.
"That means we're always looking for mini cranes and lifting attachments that push boundaries. The negative lift duty of the Maeda 285 spider crane is one example of that."
Email: [email protected]