Vital maintenance work at a major power station could be completed quickly, safely and with least disruption with the deployment of a Maeda spider crane supplied by Hird.
The power station called in mini crane hire and contract lifting specialist Hird when it needed to change a rooftop extractor fan.
The standard solution was to hire in a mobile crane for such lifting operations. But its maintenance team could see the value of considering a different approach.
Hird Central General Manager Mick Bradshaw carried out a site survey and recommended that, instead of using a large mobile crane, the job could be completed with a Maeda MC405 spider crane.

David vs Goliath – David wins
He said: "If our client had used a mobile crane, given the distance from the nearest possible set-up location to the lift point, it probably would've had to have been a 100-tonne machine.
"Because the Maeda MC405 is so compact it could be moved into a position so close that the radius was just nine metres, so the lift could be completed with a much smaller crane."
The Maeda MC405 has a safe working load of 3.83 tonnes, which was more than enough to lift the 400kg fan. In fact, at a radius of nine metres, the mini crane has a max SWL of 800kg.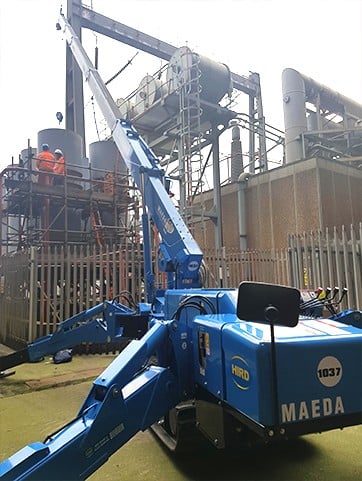 Mini cranes – cost-effective and sustainable
The lifting project involved lifting out the housing and the extractor fan, then replacing the housing and lifting in a new fan.
The project was completed in two hours – a third of the time that would have been needed if a mobile crane had been used – reflecting the fact that spider cranes are very often the most cost-effective and sustainable lifting option.
Mick Bradshaw said: "With a mobile crane, traffic management would have been needed.
"All that was avoided by using one of our Maeda spider cranes. Also, unlike mobile cranes, spider cranes can be moved across muddy or low load-bearing ground and flooring."

Zero-emissions for indoor crane lifting
The Maeda MC405 spider crane can operate on zero-emissions and low-noise electric or diesel power, for indoor and outdoor operations.
It has a powerful two-speed winch, remote control, a programmable moment limiter plus audible and visual safety alarms. The mini crane can also be fitted with a 500kg searcher hook.
Hird can supply spider cranes across the lifting range, including the Maeda MC174 (SWL 1.72t), Maeda MC285 CRM-2 (SWL 2.82t), Maeda MC305 (SWL 2.98t) and Maeda MC815 (SWL 8t).
For more information about spider crane hire, along with other lifting services that include pick and carry crane hire, mini crane operator training, glass lifting equipment hire, contract lifting and machinery moving, call Hird today.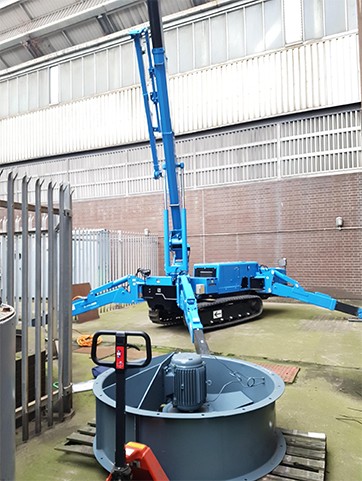 Email: [email protected]