When a glass installation specialist needed a highly-capable spider crane for reliable service at a major development site in Manchester, it turned to Hird to supply a Maeda MC 815 mini crane.
MPM Special Projects is installing 2,700 square metres of low-rise flat toggle-glazed curtain wall as part of the Deansgate Square development in the centre of Manchester.
First, its glass installation team needed to erect secondary steel columns and box beams to the concrete shell, so hired the Maeda MC815 from Hird to carry out the work.
Maeda mini cranes – compact with good capacity
Joe McCabe, from MPM Special Projects, said: "We like using Maeda mini cranes, as they are very compact but still have very good lifting capacity.
"The MC815, in particular, allows us to work at a very good height and get the load a good distance from the crane, which means we can work across a wide area from one lifting position.
"The mini crane also has very smooth controls, which allows us to get our glass panels directly into position with a good deal of precision, and with minimal manual handling."

The Maeda MC815 tracked spider crane has a maximum safe working load on 8 tonnes, a maximum tip height of 21 metres, and a maximum working radius of 18.8 metres.
When fitted with an optional hydraulic fly jib the maximum tip height is extended to 27 metres.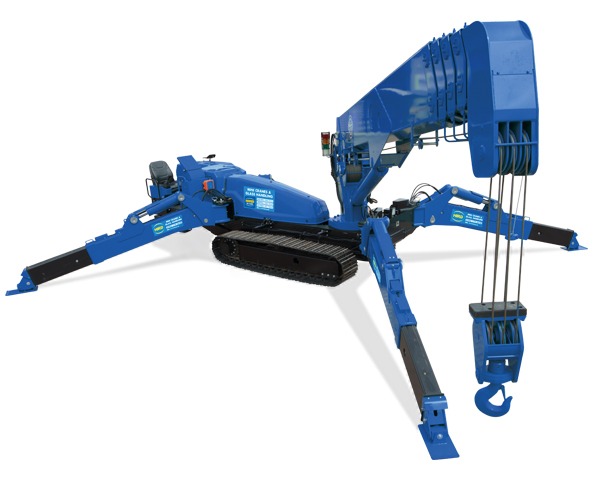 Responsive mini crane hire service
In the week it was on site, the Hird spider crane was used to lift and place four 1.3-tonne columns, each 9 metres long, and install 23 5.7 metre box beams.
Joe McCabe said: "As well as appreciating the capability of Maeda mini cranes, we also value the very responsive service delivered by Hird and the reliability of their machines.
"We are working to tight schedules, with a lot of other people and contractors around us relying on us getting our share of the project done on time. So, so being able to rely upon equipment working first time every time is essential."

Deansgate Square, previously known as the Owen Street development, includes a cluster of four skyscrapers, one of which will be, at 201 metres, the fifth tallest building in the UK.
When completed in 2020, it will have more than 1,500 apartment homes, a sports centre and a swimming pool, plus shops, bars and restaurants.
For more information about Maeda mini crane hire from Hird, including the impressive MC815, call Hird today. Hird can also provide experienced mini crane operators and mini crane operator training.
Hird also delivers a complete lifting service, including contract lifting, with mini cranes and mobile cranes, across the UK, via our three regional operating hubs.
Email: [email protected]