A Hird machinery moving team has completed a challenging project to transport a 27-tonne press nearly 1,000 miles from the UK to the Czech Republic.
Lifting specialist Hird was commissioned to carry out the contract lift to transport the 4.1m high press as part of a factory relocation project.
The success of the project means Hird is in line to win further machinery moving work from the client as it develops its factory in the Czech Republic's capital, Prague.
Machinery moving – planning 'vital'
Hird Technical Manager Jason Timmins, the project's appointed person, said: "Meticulous planning was vital to guarantee the success of this moving project.
"That included a site visit to Prague before the press was transported. We always expect to carry out such onsite inspections, otherwise there is the risk that a small but critical detail can be overlooked."
Hird's task was to transport the press and associated equipment from a factory in the Midlands to Prague.
Key challenge – a bridge too low
A significant part of the 930-mile journey was across Germany where bridges can be as low as 4m in height.
This meant that the press had to be transported on a step-frame low loader on its back. This, in turn, required the Hird machine moving team to carry out a tandem crane lift at both ends of the journey.
A 130t mobile crane with travel ballast and a 60t mobile crane were used to lift the press onto the low loader in Worcester.
It was then transported under wide load escort to Prague, while auxiliary equipment was carried in a curtain-side articulated trailer.
Full control during move
At the factory in Prague, another 130t mobile crane with full ballast, to accommodate a larger radius, and a 60t mobile crane were used to unload the press and turn it upright.
In both locations, sloping ground at the loading and off-loading site presented challenges.
In Prague, these risks were mitigated by using two forklift trucks. One pulled and other pushed the press as it was taken into the factory on moving skates, to ensure it was under full control.
The Hird team moved the press approximately 100m into the factory to the required location, then helped the client carry out laser levelling and alignment of the machine.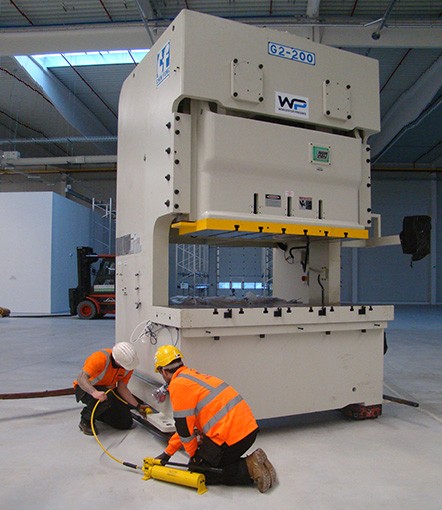 Consistent approach
The Hird machinery moving team consisted of Jason Timmins as project lead, a lifting supervisor and two experienced machinery moving operatives.
"We applied the same principles as we always do with our machine moving projects," said Jason Timmins. "Very careful planning, in partnership with our client, and professional execution using the right lifting equipment and techniques."
Email: [email protected]