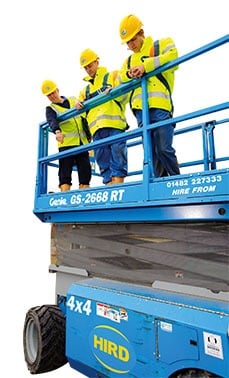 The new Doncaster depot of Hird, Hird Group, the UK based aerial platform and lifting equipment specialist has been approved as an IPAF training centre. The appointment comes shortly after the new depot achieved IPAF Rental Plus status.
Depot manager, Mark Trueman said: "As part of our plan to offer a complete service to our customers, gaining IPAF accreditation was always an integral part of our intentions for the continuing growth of the depot and compliments the extensive training portfolio that our Hull head office has offered for a number of years".
Hird IPAF training Doncaster information
Training courses available include IPAF 1A (Static Vertical) and 1B (Static Boom), IPAF 3A (Mobile Vertical) and 3B (Mobile Boom).
All of those courses can be completed with additional PAL+ options.
Hird Training in Doncaster delivers a wide range of CPCS compact crane (A66) courses, as well as lifting operations training, including Slinger/Signaller, Crane Supervisor, and Appointed Person.
Meanwhile, PASMA training courses in Doncaster, South Yorkshire, include Towers for Users, Low Level Access, Towers for Managers, and Work at Height (Essentials).
Hird Training uses the best qualified trainers in Doncaster and, when preparing a course, will always appoint those most familiar with the industries that delegates work in.
Making sure the courses are cost-effective, easy to access, and that all paperwork is managed quickly and efficiently – taking the pain out of gaining the right qualifications – are key objectives.
Trainees will also benefit from being instructed while using the best and latest equipment from Hird's hire fleet, including Genie scissor lifts and booms, Maeda mini cranes, and Valla pick and carry cranes.
For more information about lifting and powered access skills training with Hird in Doncaster, contact the training team on 01302 341659 or email Hird on [email protected].