Hird mobile crane and powered access expertise is supporting a project to dismantle and restore a historical 18-tonne dock crane.
The last remaining Scotch derrick crane at the former North End Shipyard in Hull, East Yorkshire, is being dismantled ready to be put on show as a tourist attraction.
Hird has been commissioned by specialist engineering contractor Mona Lifting, responsible for dismantling and restoring the crane, to provide lifting and powered access support for the project.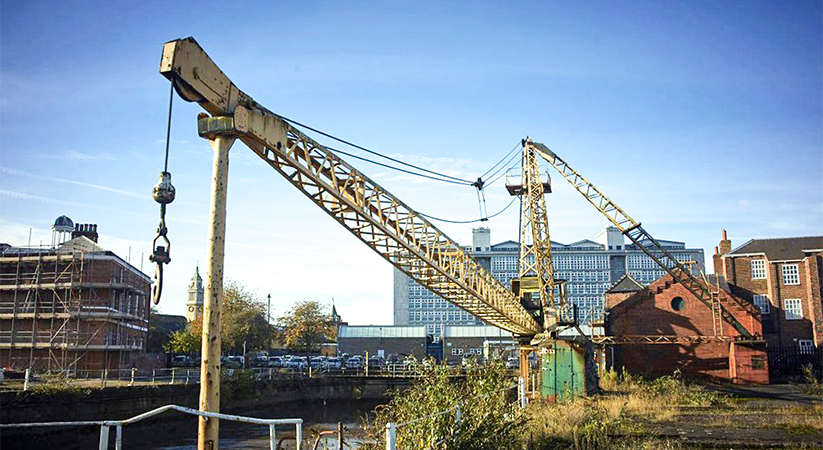 High-tech mobile crane
It has provided its Liebherr LTM 1060 3.1 mobile crane to carry out the lifts required to dismantle the Scotch derrick crane ready for Mona Lifting to take them away for restoration.
A spreader bar system was needed to ensure the long steel lattice sections could be controlled during the lift.
The Liebherr LTM 1060 3.1 mobile crane has a maximum safe working load (SWL) of 60 tonnes and a sophisticated computer system that allows lifts to be carried out safely in the most challenging spaces.
The mobile crane booms from 10.3 metres up to 48 metres. With the addition of a lattice jib, its maximum tip height is 63 metres.
Flexible crane lifting
Its VarioBase outrigger system allows outriggers to be extended to different lengths depending on conditions. This allows the mobile crane to tackle jobs that would otherwise have to be done by a larger and more-costly-to-hire crane, or through multi-stage lifts.
Once restored the Scotch derrick, first installed in the early 20th Century, will be returned to a different location at the North End Shipyard and re-erected in its original configuration.
The crane will form part of a new visitor attraction and will be located close to the new home of the Arctic Corsair, a large trawler – dubbed the Cutty Sark of the UK's fishing industry – which will be on display in a dry dock.
Maritime tourism
The North End Shipyard, close to Queens Gardens, is central to 400 years of ship building in Hull. It is the place where HMS Bounty, made famous by a mutiny, and HMS Boreas, once commanded by Horatio Nelson, were built.
It is being restored as part of the wider £25m Hull maritimehull.co.uk, led by Hull City Council, encompassing the redevelopment of five historical sites, including the Grade II* Hull Maritime Museum and the Dock Office Chambers.
Hird also operates a Grove GMK4100L 100-tonne mobile crane, pick and carry cranes with SWLs of up to 18 tonnes, and spider cranes with SLWs up to 8 tonnes.
All cranes and associated equipment can be provided on an equipment hire basis, with full operator support, or Hird can carry out contract lifts and machinery moving for projects with any load requirement.
Find out more about crane hire and contract lifting services from Hird. Call 01482 227333 or email [email protected].