A Hird Maeda mini crane has played a critical role in building a lift shaft inside the world's first steel framed building.
The Maeda MC405 spider crane was used to lift dozens of piece of steel into place in the Shrewsbury Flaxmill Maltings, one of the most important historic buildings in the world.
The building, the forerunner of all modern skyscrapers, is undergoing refurbishment, under the auspices of Historic England, to create a visitor centre, new homes and spaces for businesses.
Grade I Listed
Hird's Maeda MC405 mini crawler crane was used to build a five-story lift shaft frame inside a former kiln, as part of a plan to create walkways at different levels, connecting buildings on the site.
Building work on the flax mill, in the Ditherington area of Shrewsbury, Shropshire, was completed in 1797. It became a Grade I listed building after its architectural importance was recognised in the 1950s.
Hird's Western depot in Halesowen, near Birmingham, supplied the steel erectors with the Maeda spider crane and a Niftylift Height Rider 21 hybrid 4×4 boom lift to install the lift and stair frame.
Access into the kiln was so tight, both machines only just fitted through the original entrance way – it would not have been possible to modify the building if they had not.
Iron pillars
The Maeda MC405 was also perfectly sized to be able to operate in the highly constrained space while achieving the tip height and reach needed to lift every piece of steel into position.
The spider crane has a maximum safe working load of 3.83t, a maximum tip height of 16.8m, which extends to 20.7m when fitted with a fly jib, and a maximum working radius of16m.
These performance parameters were fully tested with the flax mill steel erection project, because the complexity of the floor space, where obstructions included walls and cast iron pillars, limited the crane's set up positions.
The crane operator reported how impressed he was with the smoothness of the controls and the responsiveness of the boom as he had to place loads with millimetre precision in highly constrained and obstructed space.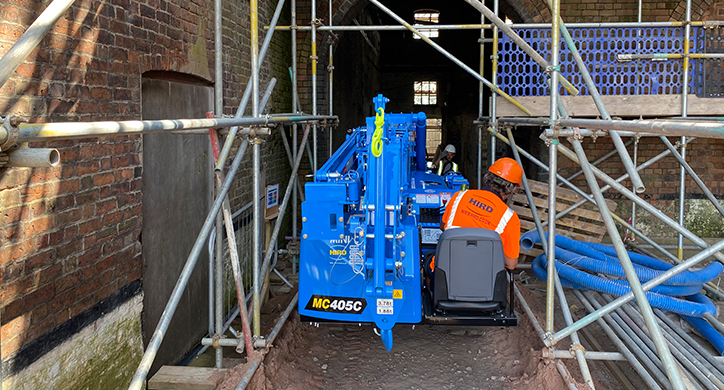 Bi-energy boom
Themanoeuvrability of the Nifty HR21 articulating platform was also critical as the same space limitations applied to its operation. As a bi-energy boom lift, it could be operated on zero-fume electrical power.
The cherry picker has a maximum working height of 20.8m and maximum outreach of 12.8m. It's up and over reach capability was essential to work above low walls and around the two iron pillars close to the lift shaft location that constrained the spider crane's working space.
As an all-wheel drive boom lift with independently oscillating wheels, the machine was also ideal for being operated across a bumpy construction site.
Architect Charles Bage realised steel would be an ideal material for building his flax mill.
Tiny fibres created during flax production often caused explosions. Building an internal steel frame out of steel helped make the building fireproof.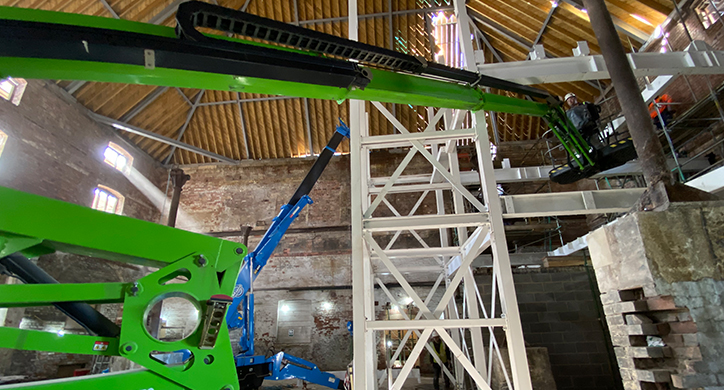 Global demand
Its relative lightness also maximised the space available for workers and machinery, while allowing Bage to construct a building strong enough to support five floors.
During the early 19th Century, the mill was one of the major manufacturing sites in Shrewsbury, employing 400 people. Its processed flax was sent to other factories to be woven into cloth, including linen, rope and playing cards, then exported around the world.
The flax mill was closed in 1886, and the building was converted into a malting house, for processing cereals for making beer and foodstuffs, until that, also, closed in 1987.
Thousands of people a year are now able to visit the Shrewsbury Flaxmill Maltings and wonder at the ingenuity of its creators. Thanks in part to the ingenuity of modern-day engineers, creating Hird's spider cranes and boom lifts.
Crane and MEWP hire
Hird can supply a range of Maeda spider cranes, from the Maeda MC174, with a SWL of 1.72t, up to the Maeda MC815, with a SWL of 8t. Hird now also has a growing fleet of all-electric battery powered tracked mini cranes, including the MC305, with a SWL of 2.98t.
Hird also has a full range of cherry picker hire and scissor lift hire options, including diesel and electric MEWPs, ranging in working height from 3.5m up to 26.4m.
Find out more about Maeda mini cranes and UK-made Niftylift cherry pickers, available from our four operational centres across the UK.
Email: [email protected]