Here at Hird we're always looking for new ways our customers can select the best mini crane hire, powered access hire and glass lifting hire options.
That is why we created our new Hird Pocket Guide to the many hundreds of products we offer for hire.
With a quick flick through, customers can find the item they need. While its compact size means it can be kept close to hand – for example in a pocket!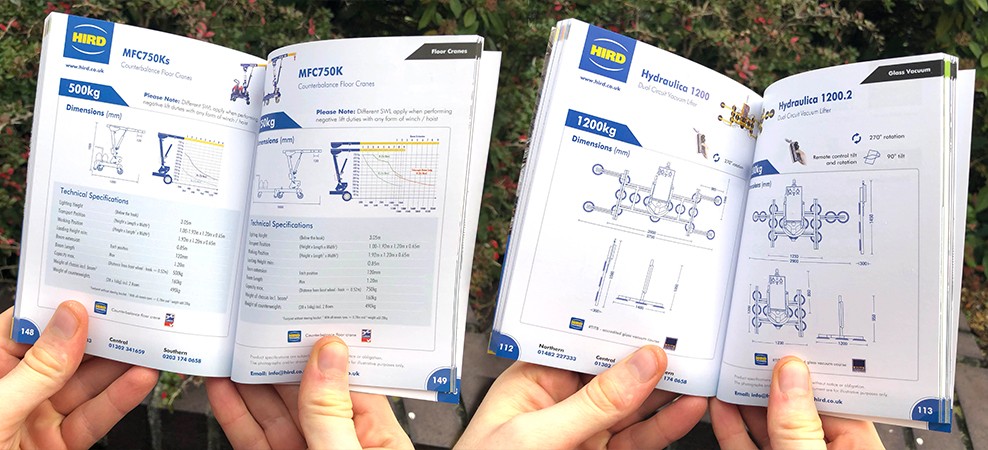 Hundreds of guides being used
Since we published the Hird Pocket Guide it has been snapped up by hundreds of customers, many of whom now regularly use it to select equipment and check performance specifications.
It also appears to have caught on across the equipment and plant hire industry, with pocket guides popping up elsewhere since Hird's was first published.
Hird Managing Director Phil Hird said: "We know imitation is the sincerest form of flattery, so we're very happy for other suppliers to learn from our lead.
Though, as the Roman's say, 'Novationem non Imitari'*.
"We're certainly very pleased with the response from customers to the Hird Pocket Guide. Being able to make the right hire decision fast is often critical to a project's success so we'll do all we can to support that process.
"More than ever, operational managers and equipment specifiers are out in the field, often moving from site to site. Carrying information they need with them to places where they might not have web access, is doubly important."
Seamless customer support
The information in the 173-page Hird Project Guide is backed up by equally good expert advice and support when customers call to make a hire order and seamless fulfilment though fast, no fuss, reliable equipment delivery and collection.
Hird is the authorised distributor in the UK and Ireland for Valla pick and carry cranes and world-leading Winlet glazing robots.
Its hire fleet includes Maeda spider cranes and one of the UK's largest (and ever-growing) selections of glass vacuum lifters and lifting accessories.
The Hird Pocket Guide also has scissor lifts, boom lifts and personnel lifts and mast booms available for hire for safe working at height – and guides for safe and productive use of all the equipment featured.
In fact, with our guide you will find pretty much everything you need for lifting or working at height in just one place – your pocket!
To receive your copy, call today on 01482 227333. Or click the button below. We will send one direct to your pocket. It is perfectly proportioned for all lifting needs.
*Translated: 'Innovate, not imitate'.
Order your HIRD Pocket Guide NOW
Email: [email protected]