A Hird machinery moving team has carried out a contract lift to support the installation of equipment in a new flour mill.
The lifting specialist used its 100-tonne Grove mobile crane combined with a loading deck to lift the equipment into the building.
The machinery moving project involved the Hird team lifting a total of 12 loads over two days at the flour mill in Yorkshire.
Faster and cost-effective lift
Appointed Person and Hird Director Carl Norfolk said: "The job went very smoothly, helped by the use of the loading deck.
"The alternative was to build a scaffold landing deck at the point the loads were being lifted to. But this system was faster and more cost-effective for the client for this particular project."
Hird deployed a team of three machinery moving operatives, the mobile crane operator and a lifting supervisor to carry out the contract lift.
The company's Grove GMK4100L mobile crane was used to lift the equipment onto the loading deck at ground level.
The deck was then lifted 22m up to the landing point where it was secured to the building.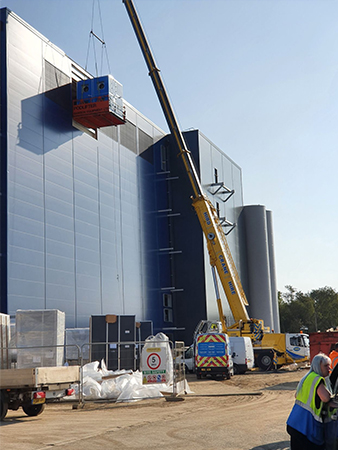 Extensive crane fleet
The loads, each one between 1t and 3t, could then be jacked and skated into the building to where they were being installed.
The Grove GMK4100L mobile crane has a maximum safe working load of 100 tonnes, a maximum working height of 60m and can lift 1.6 tonnes at a radius of 48m.
Hird also operates a Liebherr LTM1060 3.1 mobile crane. It has a maximum SWL of 60 tonnes and a maximum working height of 48m (63m with a hydraulic jib).
The company also has an extensive fleet of Valla pick and carry cranes and Maeda spider cranes, along with the skills and experience needed to carry out an impressive range of machinery moving and lifting projects.
Carl Norfolk said: "We're trusted to carry out similar projects across the UK and internationally if the need arises. Our paramount concern is to select the right equipment and team skill set so each lift is carried out safely, effectively and sustainably every time."
Talk to us about contract lifting
For more information about machine moving and contract lifting services from Hird, call today: 01482 227333.
Email: [email protected]