Hird has proved it is the number one mini cranes solutions provider by supplying a manufacturer with a reconditioned mini crane that was ideal for their needs, and met their limited budget perfectly too.
The deal shows Hird is the go to mini crane company, says Hird Mini Crane Sales and Aftersales Manager Carl Cooper.
He added: "Whatever your lifting needs, whatever your budget, and whatever mini cranes you might be using already, we have the expertise and experience to act as your mini cranes solution provider.
"In this particular case, the manufacturer, working in the caravan industry, had three key issues to deal with – limited operating space, a limited budget and a desire to maximise operational efficiency.
"Our perfect solution was to source and purchase a Valla 20E pick and carry mini crane from another customer, that we knew had become surplus to requirements.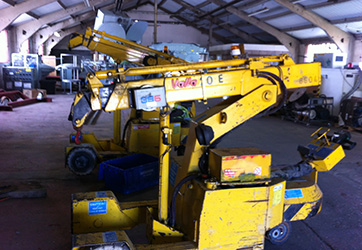 "We refurbished the mini crane, which included upgrading its load monitoring safety system, carrying out a comprehensive service, repainting it, and finally putting it through a full LOLER examination.
"All the work was done at Hird's workshop in Hull, by fully-qualified and highly experienced mini crane engineers.
"The mini crane was 12 years old, but worked and looked as good as new when it was delivered to the client in just two weeks.
"The final element relates to the capabilities of the Valla 20E pick and carry mini crane. The company needed to pick up and place steel reels on a processing machine.
"Pick and carry cranes are ideal for this work as it's a single handling solution, minimising manual handling and speeding up the production process.
"Because the Valla 20E mini crane is so compact and is electric powered, it is excellent for working in confined indoor areas, such as factory floors where space is limited."
Carl Cooper said that Hird is the UK and Ireland authorised dealer for Valla mini cranes, but that does not mean the company cannot both source and maintain mini cranes for hire or sale from other manufacturers.
He added: "A recently-acquired client had bought a mini crane and needed it serviced and maintained. The manufacturer didn't have a dealer in the UK, so the client came to us, and we were very happy and very able to help."
Hird provides pick and carry mini cranes for hire and for sale across the UK, supplying qualified mini crane operators if required, and mini crane operator training.
Hird also provides a machinery moving service and machinery moving service from Hirdcontract lifting service.
For more information about Hird – the UK mini crane solutions provider, contact your nearest Hird operating hub for friendly, expert advice.
Northern – 01482 227333
Central – 01302 341659
Southern – 0203 174 0658