Luxury car buyers and sports enthusiasts can soon indulge their passions thanks to the lifting prowess of a Hird Maeda spider crane combined with vacuum lifters.
Two projects demonstrate the impressive capability of the Maeda MC405 mini crane when combined the latest glass vacuum lifter technology.
Hird provided the mini crane and a DSZ2 vacuum lifter, along with a skilled and experienced crane operator to support the installation of glass in a new Land-Rover dealership in Bristol.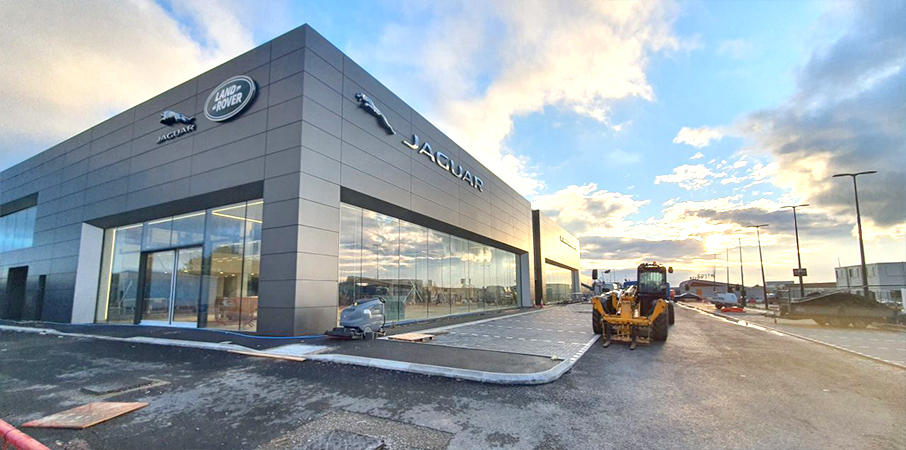 The Maeda MC405 spider crane has a safe working load of 3.83 tonnes and a maximum working height of 16.8m, or 20.7m with a jib attached, as well as a maximum radius of 16m.
The Kappel DZ2 glass vacuum lifter has a maximum working load of 750kg, or up to 900kg by fitting two additional extension arms.
It is also the UK's slimmest vacuum lifter, making it ideal for lifting glass into position in confined spaces, for example where scaffolding is close to an aperture.
The combination worked to support glazing installers fitting windows weighing around 200kg in the showroom.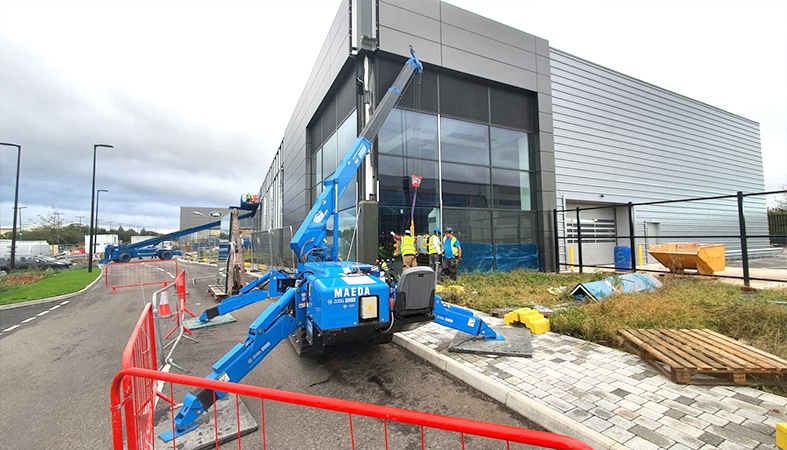 The Maeda MC405 was also deployed, along with a crane operator, to support curtain wall installers building the sports and leisure centre in Winchester, Hampshire.
It was combined with Hird's Oktopus GL-LN600 vacuum lifter to install panels weighing 400kg.
The Oktopus, manufactured by Wirth is a highly flexible vacuum lifter, capable of being set up to lift loads from 300kg up to 600kg, in different configurations.
It also provides 90-degree tilting and 360-degree continuous rotation for confident and precise panel placement.
As with the DZ2 vacuum lifter, the GL-LN600 has dual independent vacuum circuits and low vacuum sensors to ensure the load will be held if there is a vacuum failure.
Hird Maeda mini cranes range in size from the MC174, with a SWL of 1.72t up to the MC815, with a SWL of 8t. Vacuum lifters can be supplied to lift loads from 135kg (MT2) to 3.5t, with the Hydraulica 3500.
The glass lifters can also be combined with Hird's Valla pick and carry cranes, which may be the best option for internal installation projects.
John Wilding, Hird Director, said: "Our clients can be completely confident of the lifting technology and expertise delivered by our operator for any project.
"Efficiency, safety and a quality finish, combined with quick installation at the end of a build project when timescales are tight, and we're able to support these challenging objectives."
For more information about Maeda mini cranes and glass lifter hire options, call Hird today. Crane operator and glass lifter training can also be provided.
Email: [email protected]