Is this an agricultural candidate for Grand Designs? Hird has provided mini crane and glass vacuum lifter support for an unusual new home under construction on a farm in North Yorkshire.
The new-build structure may look, in terms of its shape, like a standard farm building. But it is actually a house, a rather large one with very big architectural glass windows.
Hird supplied a Maeda MC305 spider crane, two types of glass vacuum lifter and a skilled crane operator to assist in the installation of the glazing for the new house close to Northallerton.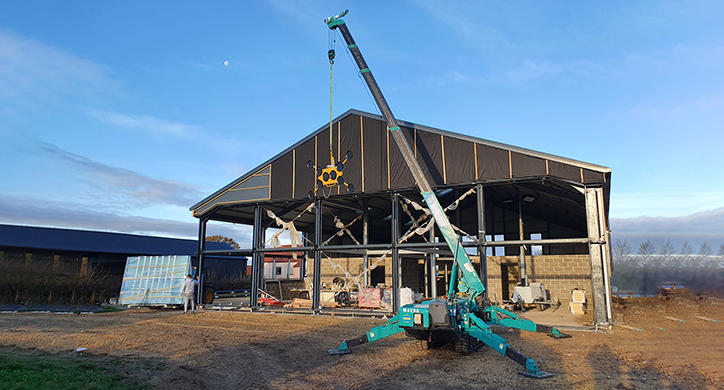 Optimum safety
The front and a large section of the side of the home is made up of a giant glass wall. It was the panels making up this wall that mini crane and glass lifting specialist Hird was called in to help install.
The Maeda MC305 tracked spider crane has a maximum safe working load of 2.98t, a maximum working height of 12.52m and a maximum radius of 12.16m.
Its rubber tracks meant it could cope with the uneven ground around the construction site with ease.
The ability of the operator to control the mini crane remotely means he could manage each lift from the optimum position for safety and operational performance.
The two glass vacuum lifters hired out for the construction project were the Kappel DSZ2 glass lifter and the Woods Powr-Grip MRT4 glass lifter.
The Kappel DSZ2 was used to lift the large glass panels. The glass vacuum lifter has a maximum lifting capacity of 750kg which was used to lift the largest panels, each weighing 430kg.
The glass lifter's four extension arms, with 10 suction cups, were fitted to provide the capacity and control needed to lift what were large glass panels.
Versatile glass lifting
The Kappel DSZ2 is designed to be ultra-narrow to support glass lifting in confined space. It provides 3600 powered continuous rotation and 900 manual tilt, plus independent dual valve suction to ensure the load is held in the event of suction power loss.
The Powr-Grip MRT4 glass vacuum lifter was combined with the Maeda MC305 spider crane to lift the smaller glass panels.
The highly-versatile glass lifter is one of Hird's most popular vacuum lifters. It has a maximum capacity of 320kg and can also be fitted with extension arms to control heavier and larger loads.
The Woods Powr-Grip MRT4 lifter can also be combined with the new Intelli-Grip digital load monitoring and control system which makes the most efficient use of suction power, extending battery life, and enhances safety.
Hird's mini crane hire and glass vacuum lifter hire service, combined with the company's experienced operative, has ensured the glass for this appropriately-designed new farm home could be installed in a timely and safe manner.
Hird can provide mini spider crane hire options ranging from SWLs of 1.72t, for the Maeda MC174, to 8t for the Maeda MC815.
For glass vacuum lifter hire, capacities range from 132kg, for the Woods Powr-Grip MT2, to 8,000kg for the mighty Hydraulica 8000, with multiple options for lifting curved glass or other materials, including plasterboard, glass reinforced concrete (GRC), and stone.
All hire options are available nationally via our four operational hubs. Contact Hird today.
Email: [email protected]