A 50-tonne mobile crane provided by Hird has lifted into place the elements of a new memorial to the 6,000 Hull trawlermen lost at sea.
The Grove 3050 mobile crane was used to lift the steel cut outs depicting 13 trawlermen and a boy into position at St Andrew's Retail Park.
When the memorial was officially unveiled, it was blessed by The Archbishop of York, Dr John Sentamu.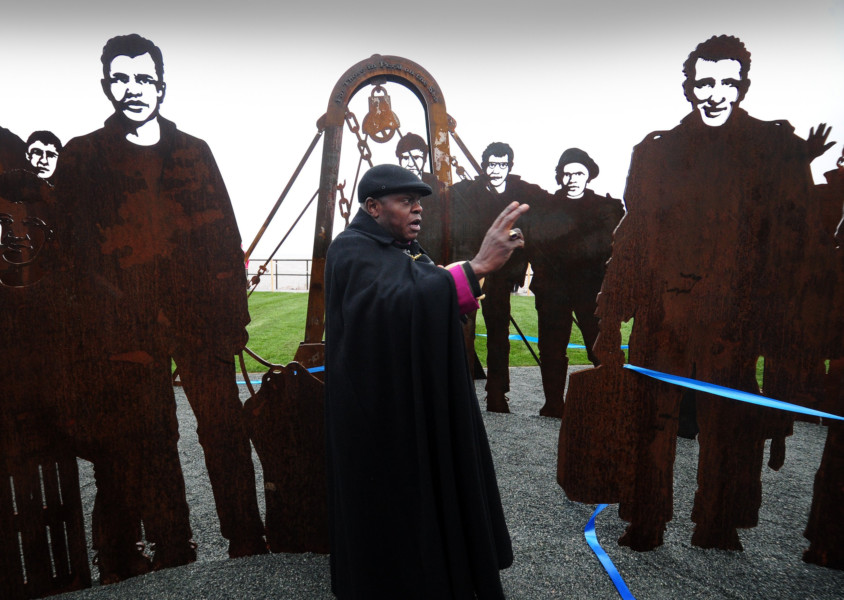 The Archbishop of York, Dr John Sentamu, blesses the memorial on the day it was officially unveiled.
Campaigners had been calling for a memorial to be placed on the site for 15 years to mark the sacrifice of trawlermen officially recorded as being lost at sea.
A Hird crane lifting team used the Grove 3050 mobile crane to place the steel silhouettes on land next to the Sailmakers pub.
Phil Hird, Managing Director of Hull-based Hird, said: "We were pleased to have been selected to carry out this lifting project. It marks a very important part of Hull's history.
"Hull was initially built on the fishing industry. It seems right to have this memorial in place during Hull UK City of Culture 2017."
The memorial, which will be removed temporarily later to allow flood defence work to be carried out, was designed by artist Peter Naylor.
It shows the likenesses of 13 real trawlermen, and one boy, lost at sea, and was officially unveiled on Lost Trawlermen's Day, which has been held annually in Hull for the last 28 years.
Hird Lifting is regularly commissioned to lift artwork into place, thanks to the skill of its highly-experienced crane operators.
The Grove 3050 mobile crane has a 38m boom, with a hydraulic fly jib, giving a total boom length of 53m. It has 6x6x6 steer and drive, and travels with full ballast. The mobile crane's compact design means its travel width is just 2.5m.
Email: [email protected]