A Maeda mini crane on hire from Hird is making light work of steel erection during the redevelopment of Newcastle's famous city pool and Turkish baths.
The Maeda MC285 CRM-2 spider crane was needed because the steels were being put in above a light load bearing floor above the swimming pool at the facility in Newcastle upon Tyne.
The spider crane's extremely light footprint and excellent manoeuvrability made it ideal for a complex steel erection project in a confined space.
Remote control for safety and productivity

The work was helped by the mini crane operator, provided by Hird, being able to use a remote control to move around the space while operating the crane, supporting productive and safe lifting
Newcastle City Pool and Turkish Baths were opened in the city in 1928 and are now the subject of a £5million upgrade which involves creating a new fitness centre and conditioning studios.
The Maeda MC285 mini crane had the right performance characteristics – it could access, and work inside, a confined space, and delivered excellent lifting capacity.
The tracked spider crane has a maximum safe working load of 2.82 tonnes yet is just 750mm wide and weighs just 1.77 tonnes. The mini crane has a maximum working height of 8.7 metres.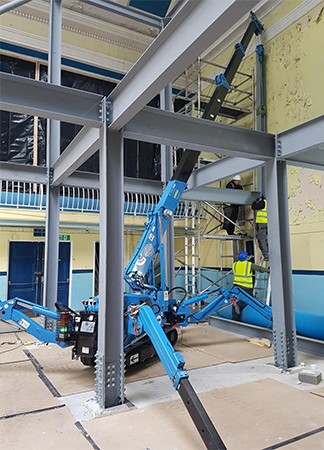 Low-emission crane operation

Low-marking rubber tracks help protect sensitive flooding. The crane can be powered by petrol or LPG, allowing low emission operation in confined spaces.
Hird's fleet of Maeda spider cranes range from the Maeda MC174, with a SWL of 1.72 tonnes to the Maeda MC815 which can lift 8 tonnes.
Hird can also provide mini crane operator training and supply a wide range of glass vacuum lifters for hire plus lifting accessories.
For more information about tracked spider crane hire anywhere in the UK, via our three operating centres, call Hird today.